Get inspired, check our animal themed decors ideas
We gather some of the best animal themed wall art for your nursery design.
Children are drawn to animals even at the earliest of ages. It is just something that is innate in humans. Here we present some of the common and also some of the most uncommon animals and how they can be used to decorate your child's room. Animals add a sense of wonder and adventure to a child's room. Animal themed nursery décor broadens a child's horizons even before they can leave their crib.
You can miss out on the joy of creating with animal themed nursery décor if you do not take a look at all the variety that is available here.
Why choose animal themed nursery décor
Firstly, because children like it! They love bears, elephants, deer, foxes, butterflies, and the denizens of the African veldt. The love for animals is why you buy stuffed animals for your children.
Your child creates a person out of their animal companions even at the youngest age. Child psychologists claim that this is normal and good for your child. Having animal themed nursery décor will help stimulate your child's imagination and creativity.
Animals are endangered in the present world. Having animal themed nursery décor will help train your child to respect animals for their uniqueness and their beauty.
It is just plain fun. Animals on the walls are fun for your child. It can be a great source of fun for you in creating that perfectly special room for your unique and wonderful infant to grow up in.
Do you need different animal themed nursery décor for boys and girls?
You really do not need to pick animals based on the sex of your child. Your best solution for your child's utmost enthusiasm and enjoyment is to involve them in the selection of the animal they like best. Use your phone, computer screen, or television to show your child the selections here and watch their response. Excitement and rapture are indications that your child has chosen a particular animal.
Common visual elements in animal themed nursery décor
The designs are simplistic. These are not depictions of real scary animals nor are they cartoons. The designs all have a common theme of friendliness and a bit of humour. The themes are designed to please a parent's sense of style.
The color is up to you. You can match the art to existing paint or plan a nursery around the animal themed nursery décor colors.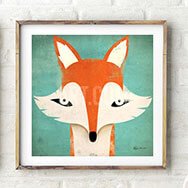 The material for animal themed nursery décor
Your choice in material is extensive. You can have a basic framed art work, a mobile that lets the animals move, or a more modern geometric representation of the animal your child likes best. The animal of choice is available in paintings, posters, photos, and prints.
One popular material is removable vinyl decals. The artwork is the same in quality and the decal can be changed or removed as your child matures. The decals are also recyclable.
Take a look at the variety of animals and materials we have selected. We also have room design guides and decorating guides that will make your choice of animal themed nursery décor the most unique you can imagine. We help you design so your child learns how wonderful animals are and benefits from having animal friends around all the time.
Animal Wall Art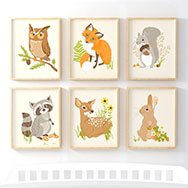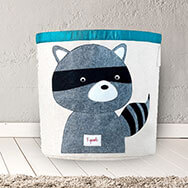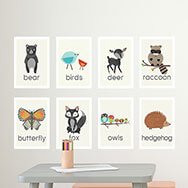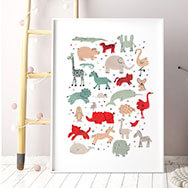 Join the community
All the updates and special deals directly to your inbox.
Ready to intall your wall art?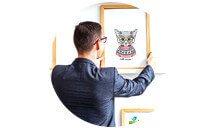 Wall Art
How to select and choose wall art
Selecting wall hanging art for a nursery is the best part.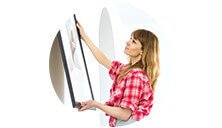 Wall Art
Tips for arranging and spacing wall art
The installation of wall art need preparation.