Your kid's room decor is important. It's not only a matter of making it comfortable. They need to feel that it's their own space, a cozy room for them.
This guide covers the following:
1. Don't Buy Everything New
One of the best things about the Bohemian style is that you don't need to spend a lot of money. Don't even think about going to those fancy stores. Just visit garage sales or thrift stores. These are the kind of places where you will find meaningful pieces for your kid's new room decor.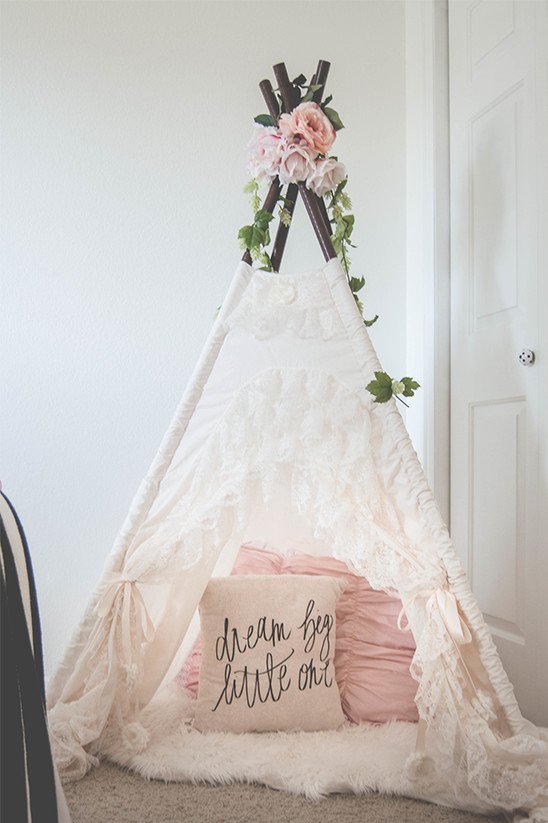 2. Tassels
Tassels are a huge part of the Boho decor rooms. With so many different colors and sizes, they will help set the mood for a relaxed atmosphere that perfectly combines with the Bohemian decor style.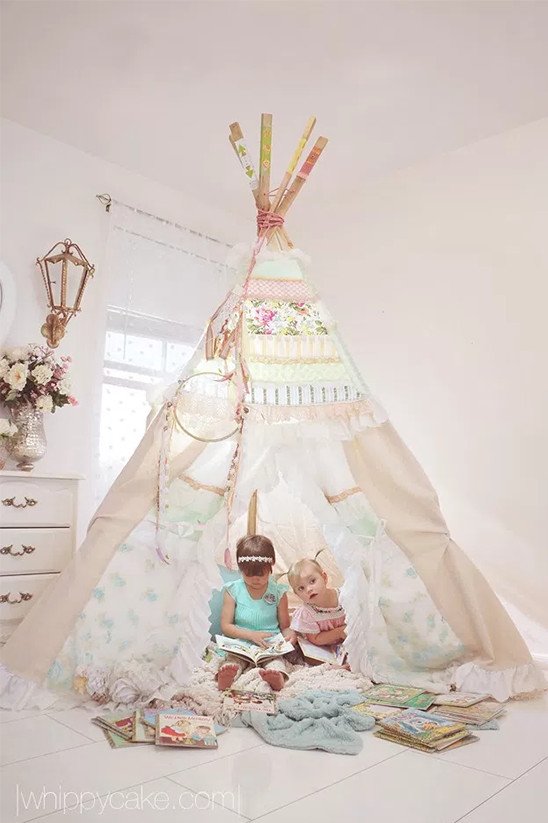 3. Organic Decor Elements
A true Boho decor will always need to incorporate some organic elements. This can be done through design patterns and graphic elements Pillows are also one great option when you are decorating your kid's room. They will make their bedroom cozier. They can be displayed on the bed, on the floor, or anywhere you want.
I have seen some great wall tapestry with organic patterns and design.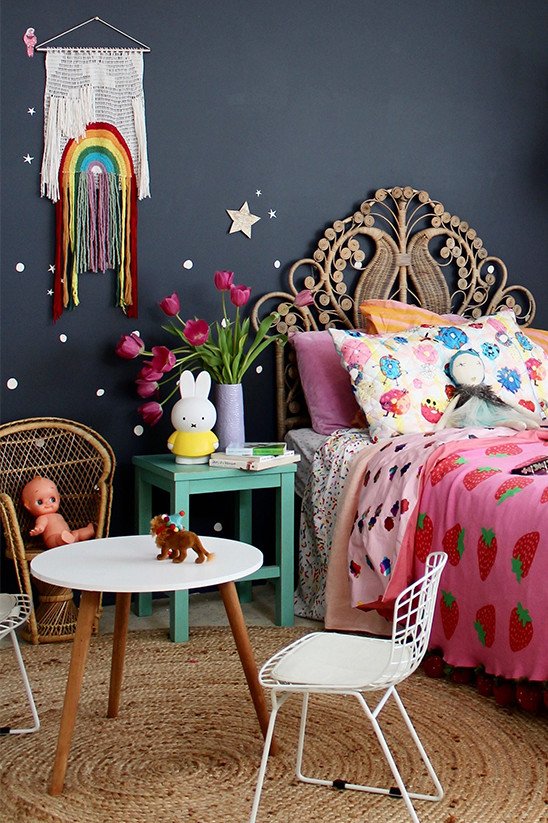 4. Macrame, A Touch From The 70s
What's a Bohemian decor without macrame? They look amazingly well within the entire Boho atmosphere.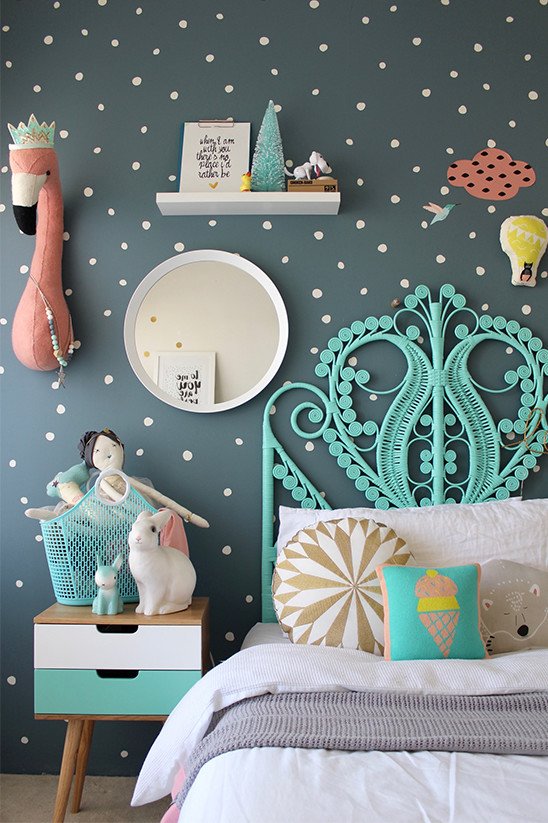 5. Don't Forget About The Different Colors
Colors are crucial in a kid's room. You know they love them! Not to mention that they are a great adding to their bedrooms. They are never enough. Add some pinks, browns, purples, grays, blues, and even greens. All you need is to make sure that they fit well in the cozy room you're designing.
One of the things that tend to catch most people's attention with a Boho's decor is color. The use of different colors is extremely important besides that your kids just love colors.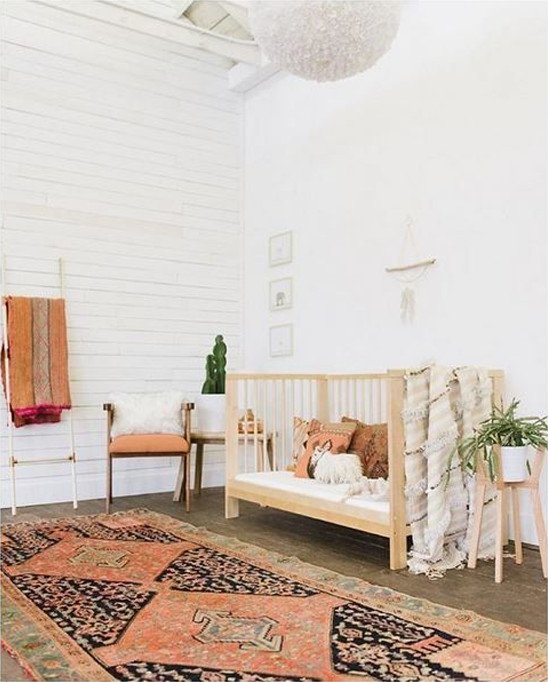 6. The Greens
It's always good to teach your kid how nature has such an important role in our lives and how we should always take care of it to preserve and maintain it. So, why shouldn't you carry this vision to your kid's room? Just by simply adding some fresh flowers that you can pick up in the backyard or even a cactus. Make sure to place them somewhere safe in their room. The important thing is to provide them with the ability to appreciate nature.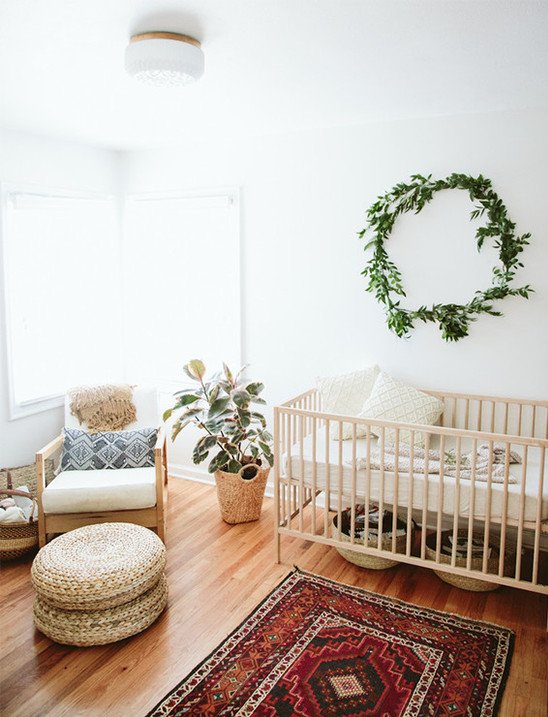 7. Starting With The Floor
While not many people tend to even look at the floor in terms of decor, the truth is that it is an important space. After all, simply adding a rug can be great for some. But if you like the Boho style, then there's nothing better than decorating it with floor-sweeping linens.
In case you're thinking this is too hard, it really isn't. Just make sure that you have a canopy in each corner of your bed and cover it with a beautiful linen. The canopy should be enough big so that you have room to have the extra fabric sweeping at the lower part of the bed.
The fabric flowing on the floor will create that great bohemian look you want.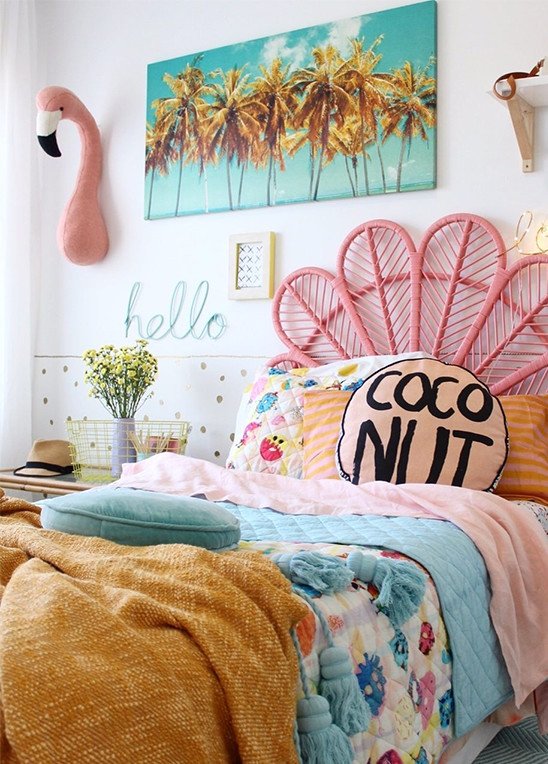 8. Walls Decoration Is A Must
Walls personalization is very important in a kid's room, no matter the age. Many parents opted for leaving the walls painted in white or a pastel tone. However, there is so much more you can do. And if you really like the Boho style, the options are even more.
You can either use just one of the following ideas alone for each wall in the bedroom or you can do a mix and match with several elements. The truth is that it is up to you and depends ultimately on the things you like most and want to have in there.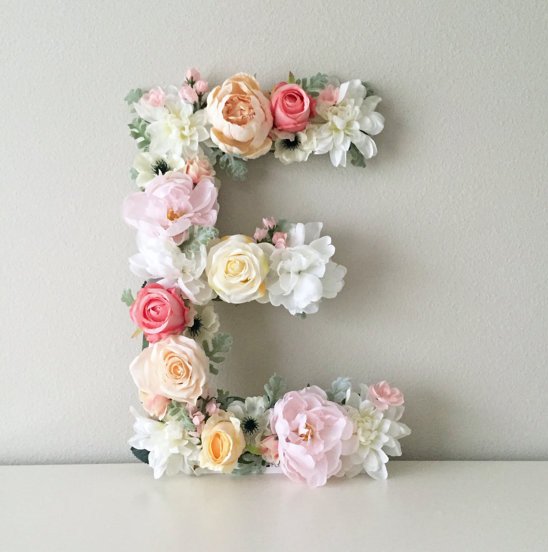 Having A Gallery Wall
Here you can include anything that you want from arrows to some words that express your kid, the alphabet, a character poster he loves, some painting that is appropriate to his age, among so many others. Remember they don't all have to be on the same size or shape. Just combine them. One of the things you can do to make sure it ends well on the wall is to experiment on the floor first. Try to place the most important elements on the center and the rest of them surrounding them.
Then, you just need to hang them on the wall.
Photo Frames
Many parents are fans of displaying photos around the house from the entire family. And you can do this as well in your kid's room. You can, for example, choose a good photo from both the parents, another one with the entire family and then others where your kid appears throughout his life. This is extremely cute and it will look very cool in your kid's Boho bedroom.
Illustrations
If you are a fan of art, like me, why not adding some colorful illustrations to one of the walls? Besides adding more colors, you'll be also teaching your kid about creativity and imagination.
His Own Drawings And Paintings
If your kid is already drawing and painting, you can ask him to do his art to decorate his room. The truth is that it will look simply amazing and he will love it. He is not only going to have a new decor in his room as he is helping you out with the decor with his own hands.
Some Strange Floating Shelves
As this is still your kid's room and space is never enough to store all his things, you can take the time you are redecorating his room to add some strange shaped floating shelves where you can incorporate some of his favorite items.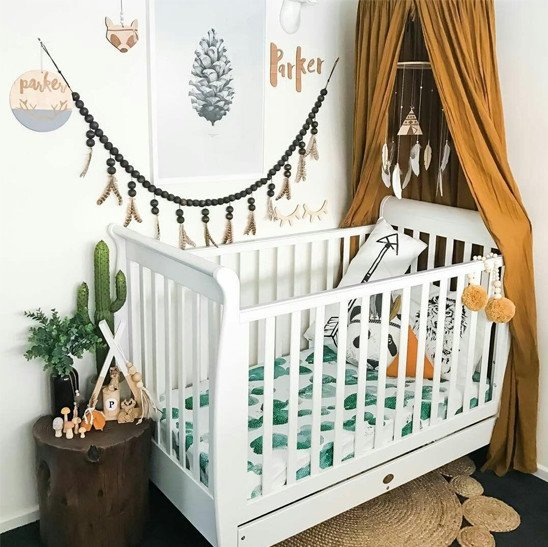 9. Don't Limit Your Imagination And Creativity
One of the things that you always think about when you see a Bohemian room is the incorporation of so many different elements like feathers and strings of beads. In case you don't have this kind of elements at home, one of the best places to find them is on Etsy. They tend to have a lot of elements that would perfectly suit the Boho decor.
Usually, all Bohemian rooms are incredibly bright. And even if your kid's room has a huge window, you should add some beautiful bright shades. You can start by using a bright bed sheet, rugs, and even pillowcases to give the room a true Boho style.
You can also add some lampshades and even a flower vase on a corner. The only thing that you need to be careful about is if your kid is still a toddler as he may end up hurting himself with the vase. However, for older kids, this will provide their room with natural elements and a lot of bright colors that they will love.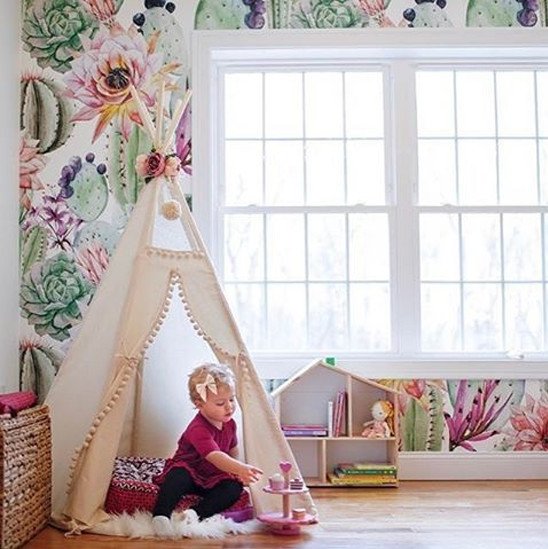 Conclusion
As you can see, it's really simple to design your kid's room with a Boho design. You just need to have the right elements with lots of colors and keep adding them. Just let them create a story for themselves. Multiple layers, textures, lots of colors, and a cozy atmosphere will be the end result. And you can be sure that your kid is going to love his new room.
Join the community
All the updates and special deals directly to your inbox.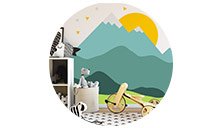 Wall Decals
Wall Decals Guide
Discover our 34 Essential tips about wall decals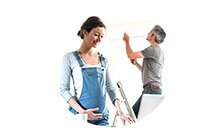 Wall Art
Top tips to install and hang wall art
Everything you need to know for hanging wall art.