Boys bedroom ideas for:
When you discover that you are going to be a parent, you just reach a complete happiness state. It really doesn't matter if this is your first baby, the second, or the fifth. You just want him to born healthy.
However, after a while, you start thinking about decorating your baby boy room. There are so many things they need and you just want to make sure that you provide him with a beautiful and safe place to sleep, play, and grow.
One of the mistakes many new parents do is that they spend a fortune on some items that are only going to be used for a few months only. Instead, you should opt for quality items and furniture that can be later converted into a different one. This will save you a lot of money and space. After all, you will need to store all the items you don't need anymore.
While there are some essential pieces that your boy's room needs to have, there are others that will change over time.
So, here are some of the essential items for the decor of your boy's bedroom:
1. A Nest For Your Baby Boy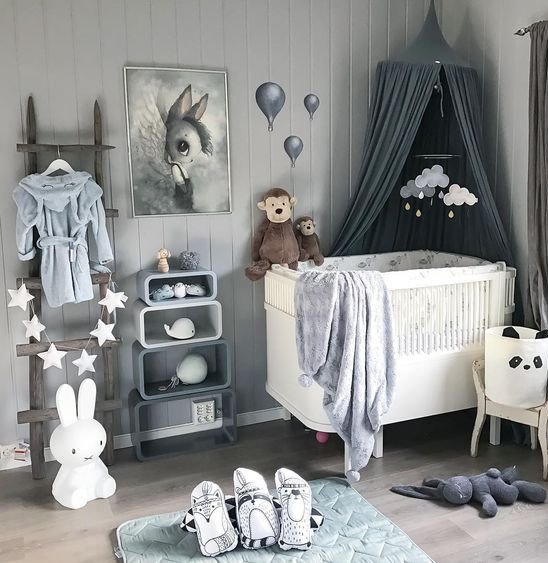 Baby Boy Themes
One of the most important things to keep always in mind is the space that you have available and whether you want to use a special theme for the room or not. There are many different and beautiful themes that can be easily incorporated into your baby boy room. From animals to space, sports, adventurer, or even a pirate theme should look amazing. However, one thing that you should remember is that babies grow. So, if you make the room too much "baby", in a couple of years you will need to redecorate it again.
In case you're not a big fan of a theme decorated room, you can always opt for a different soft color for the walls or use some wallpaper. In fact, a wallpaper with some collages may be just a perfect idea since you will be able to remove them easily when the baby grows. From simply having a tree on the wall, some birds flying, or the stars and the moon, there are plenty of options that look amazing.
Boys bedroom paint ideas
Every decorating project needs a start and we suggest you go with a paint color you will use as a foundation to tie in the rest of the room. Blue seems to be a popular color for boys' rooms, but you can choose what you like or if your little boy can help, ask him to choose a color. Sometimes the children can really help and take ownership. Pick a flexible color palette. You can also go the route of a large wall mural that will make your decorating easy. You may choose to keep a more neutral color if your plan is to expand the family and move your boy to a different space. You also have the option of using chalk paint. This provides a writing surface on the wall which cleans up well afterwards. If this is your first child and it is a nursery project, tons of ideas are out there, but make sure you can replace as your son gets older.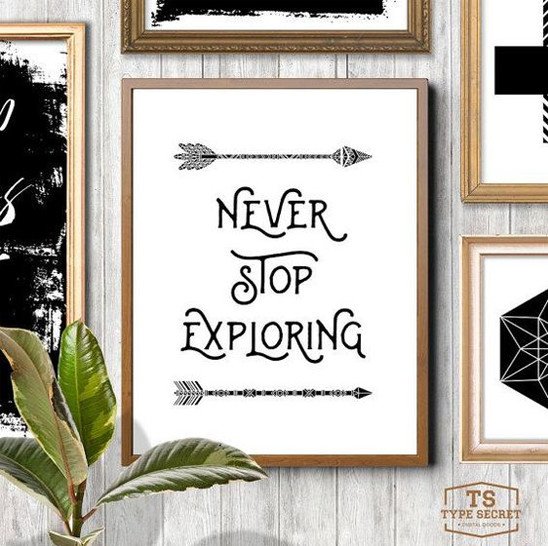 Children's wall art is essential
Children's wall art serves dual purpose: it gives the room a focal point and it also educates. A young child may benefit from keeping it simple with numbers and letters. An older boy may want the room to be more active in theme, so you may choose to go with some toy pictured art. You can adapt as the child gets older. Art is such fun, that we really feel it is important that wall art is not just chosen to take up space on the wall, but it should also have a message.
Tips for Fabrics
The furnishing linens used in children's rooms should be durable, as the kids spend a lot of time in their rooms and very often there is spillage to deal with. You will want to tie in your color and theme but don't make it too busy. You want high function typed fabrics and there are many to choose from; however, you should bear in mind that the fabric should be able to last for a long time and also withstand the laundry process. Ensure that your chosen fabric does not fade even with multiple washings.
Pull it together! Now You Have a Cool Boys Room
It is always helpful to put your basic plan on paper so that it is visible, rather than in the mind only. If you are undecided about the color, you can get small quantities from the hardware store and try them on the wall. You will want your boy to love his room and regard it as a haven of safety and a place to play. Safety is important so friends don't get hurt on corners with sharp edges. Add bookcases or a storage area to teach him how to tidy up and keep it neat. Have fun!
Baby Crib
One of the central pieces of a babies room is, without any question, the crib. After all, this is where he will be spending most of his time, especially during the first months. However, you should also consider in getting a 3-in-one evolutive bed. This way, you won't need to think about a different bed before he is 8 or 10 years old.
Changing Station
Along with the crib, another item that is definitely important in a baby boy room is the changing station. However, and even though this will be used several times a day, this will be one of the first items to leave the room. So, you really don't need to spend a lot of money on one. You can adapt a dresser and place a comfortable changing pad on top of it. This way, you'll have plenty of space for storage and you'll still be able to have everything you need when it's diaper change time.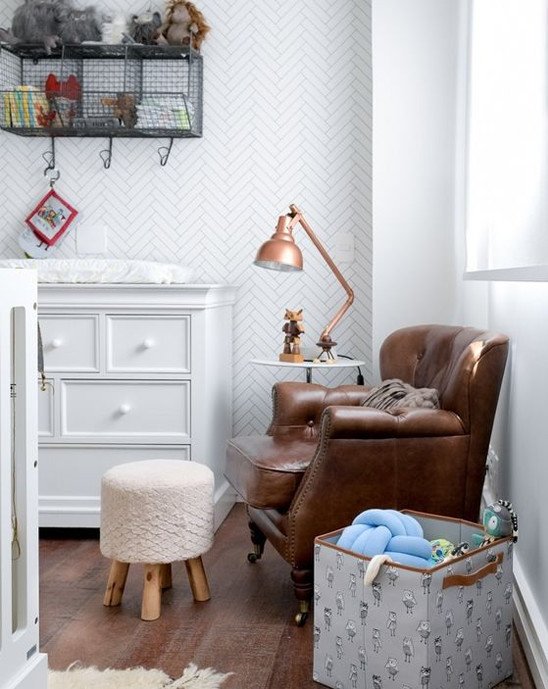 Rocking (or not) Chair
When you have a baby, you will make sure that you also have a rocking chair in his room. You can use this chair to rock him, breastfeed him, and even to read him some stories that he will love. A rocking chair is something that is really worth it and that you can maintain in the boy's room for a very long time. So, make sure that is comfortable and durable, and that it fits the rest of the decor.
Flooring
The floor is also another important point. After all, when your baby is about 6 or 7 months, he will want to start sitting and crawling on his own. So, a good rug is a great idea. Besides, make some space available for a baby mat and gym. Babies love this kind of thing.
Lighting
Lighting is also important in a baby's room. So, besides the usual light on the ceiling, you should consider getting a lamp that you can turn on when you need to change the diaper in the middle of the night, to feed him, or to read him a story.
Window Treatment
One advice that we tend to give to all parents is that while natural light in a room is extremely important, the use of blackout liners even if you use any kind of drapery is crucial. The truth is that some babies tend to be a bit more difficult during the nap times and this is definitely a great help. Besides, they won't also wake up when the sun rises in the morning.
2. Toddler boy room ideas
Now that your boy is already a toddler, he needs different things. So, now it should be the time to remove the changing station or the changing pad, and he will definitely need more space on the floor to play with his trucks and cars. Besides, if your toddler loves craft, he will need a lot of space and you can also opt for a workstation instead.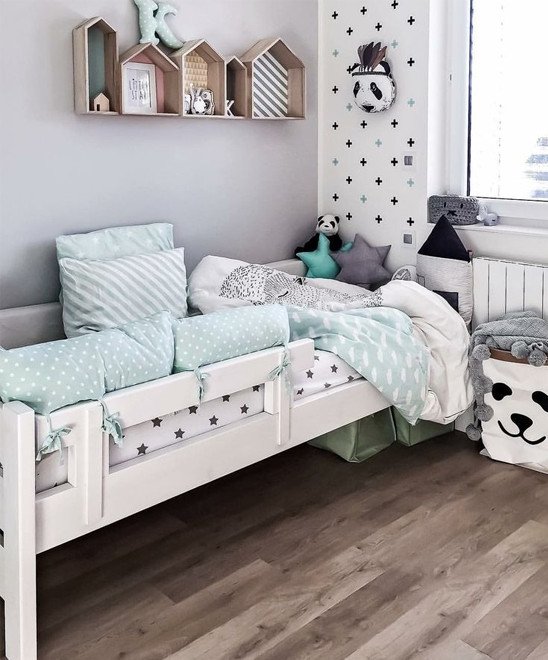 Toddler's bed
In case you have been using a crib up until now, it's time to make the transition to a toddler's bed.
As you can see, there are a lot of things changing in your boy's room. After all, he is growing every single day.
Toddler boy room themes
One of the things that you can do is to use the things he likes most to decorate his room. While for some it may be animals, for others may be dinosaurs or simply the jungle. Just take a look at what he loves and transport it to his own room. You can be sure that he is going to love it.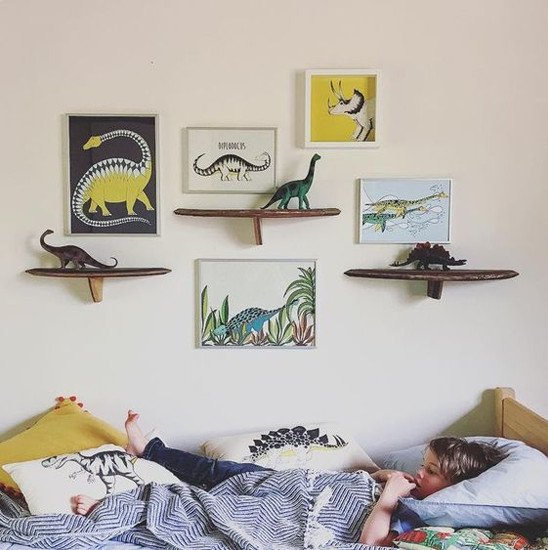 Another change that you should probably need to make concerns with the wall decoration. If you used some baby decorations, it's definitely time to change those for some more appropriate ones. In case you chose a to have just one color, you can replace it with other or use some removable wallpaper. Adding some photos of him and parents are also a great idea to make his room more "homy".
Bookshelf
As you know, books are great since they can stimulate your toddler. So, why not making use of some built-in bookshelves. This can either be floating shelves or you can simply by a bookshelf that you like and that fits with the rest of the bedroom decor. As he gets older, you will already have space for him to put his trophies, more framed pictures, or even his action figures.
Height scale
Last but not least, a kids height measurement scale is a great idea. This will allow him (and yourself) to see how much he is growing. There are some with tree patterns, animals, cars, trucks, among so many others.
3. Boy bedroom ideas 5 year old
Now is the time where your kid is already more independent and he will want to start to get dressed alone. So, you need to ensure that you have his drawers accessible at his height. This is one of the reasons why we mentioned a dresser when you are designing your baby's room and that would take the changing pad on top. Now, he can use the drawers and pick his clothes all by himself.
Workstation
At this age, having a workstation is already a need. After all, he will be already drawing, painting, and he will soon start to learn how to write. So, making this corner of his room pleasant is a great idea. Just pick some colored materials that he can use, different kinds of paint, among others to stimulate his creativity and imagination. For sitting, you can think off a comfortable chair that fits his size.
Having some kind of board or wall where they can write when they want is also a great idea. They don't need to be on the workstation all the time.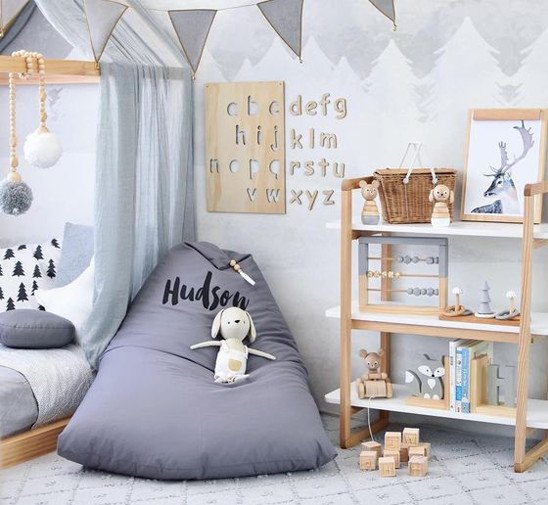 Seating
Do you remember the rocking chair that you used to use when your boy was just a baby? He can keep using it to read his own books. And in case he is not feeling well during one night, you can also use it to stay on his side.
4. Decor for 8 year old boys' room
With 8 years, you can be sure that your kid already knows exactly what he likes. However, there are always ways to surprise him. Can you imagine the look on your boy's face if you integrate his favorite cartoon into his own room? What about a climbing wall?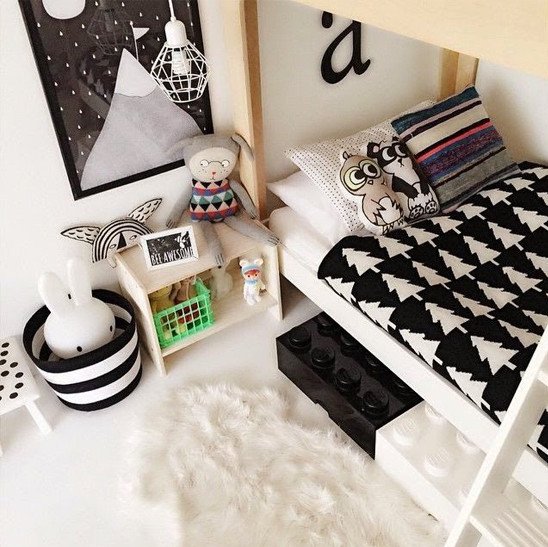 One thing is for sure. When your kid is already 8 years old, his bed won't mean as much to him as the rest of his room. He will want to make sure that he has enough room to play either on the floor or on the console or computer. While some parents won't agree with a computer in the kid's room, this is something that you should take into account when you're thinking about redecorating his room.
Most 8-year old boys like to have a place of their own besides his room. A place where they like to be left alone for play. So, you can easily create this space for him using an interior tent. You can place some pillows inside, a blanket, and anything else you may remember.
5. 10 year old boy bedroom ideas
By the age of 10, your kid probably loves to have some friends at home playing with him. So, you want to make sure that his room has enough space for them all to play safe.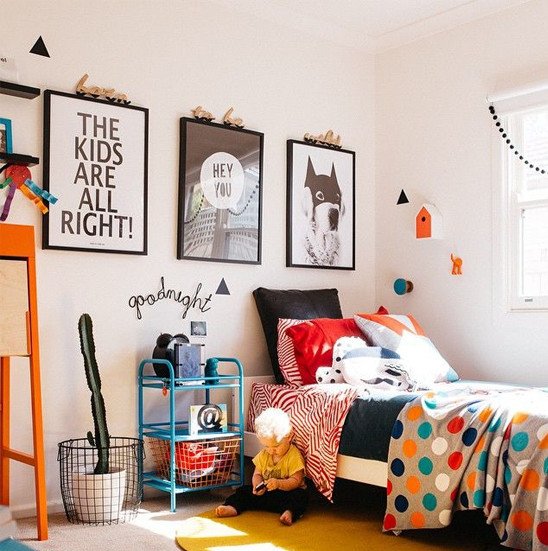 Besides, he probably already has a lot of new trophies and some posters that he wants to have on his walls. So, if this is what he likes, why not allowing it? Just make sure that you're the one placing them on the walls and on the places he wants them.
Shelves
With more and more books now, he should probably need more shelves. Again, you can opt for traditional shelves or for floating ones that look amazing, especially if you use different shapes like a hexagon, for example.
Worksation
Another thing that you should probably need to take care of is the workstation. In case you can adjust the height of the one he already is using, the better. If not, it's important that your kid has a specific place to study.
6. Teenage guys room design
We all know that teenagers can be complicated. However, more than ever, they tend to see their bedroom as the only room in the entire house that is only theirs. And they love to have time to be left alone, without anyone bothering them. So, the least we can do is to make their space incredibly pleasant and comfortable, right?
Boys beds
Now should be probably the time to think about changing your boy's bed. After all, he is all grown up and he really deserves a new bed. You can also take the time to change some of the things in his room and concentrate on the things that he really likes.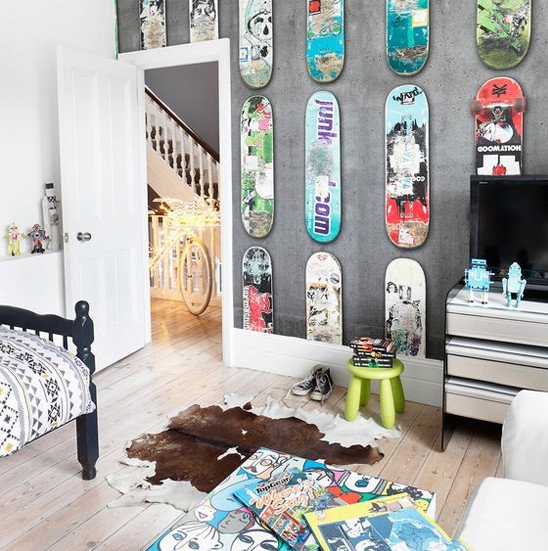 Colors
If there is something that will become substantially different is that the colors will become paler. Teenagers don't tend to be big fans of very bright colors as when compared with babies or toddlers. So, don't be surprised if your son wants to remove most bright objects from his room. It's normal.
In terms of the walls, they may want to place there their favorite musicians, actors, or even things related to a TV show or a movie they like.
Boy Room Conclusion
As you can see, there a lot of things that keep changing in your boy's room as he grows. It's just normal to keep adapting his room to his needs. So, you want to make sure that you spend the most part of your money on the items that will stay there for more time.
With so many different ideas, we bet that you are already picturing how your son's room is going to be, right?
Boy Wall Art For The Bedroom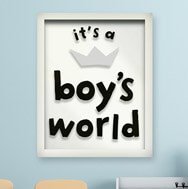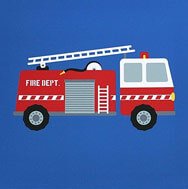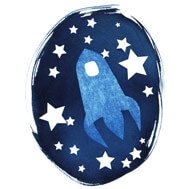 Join the community
All the updates and special deals directly to your inbox.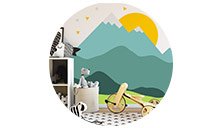 Wall Decals
Wall Decals Guide
Discover our 34 Essential tips about wall decals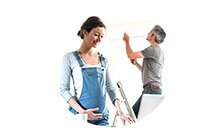 Wall Art
Top tips to install and hang wall art
Everything you need to know for hanging wall art.