When it's time to think about your kid's room, most parents just don't even know where to start off. Because we always want to give the best of everything or the things we wish we had. With so many awesome things that you would have liked to have in your room when you were a kid. Plus, the choice is even bigger now.
Since a kid's room has a huge influence on the way they develop and grow, parents want to make sure to create a comfortable space while fun at the same time.
And if you're thinking about your budget, you don't need to have an indoor palace. Not even close. We have selected only the best ideas that you can use. Some of them or really accessible and you can be sure that they will fit everyone's budget.
So, let's take a look at everything that a kids dream room should include.
The coolest beds that will make your kid's room simply amazing.
Obviously, you want to make sure that your kid is comfortable sleeping on the bed. However, you may also take the chance to make it one of the central pieces of the room. So, here are some of the best bed ideas for kids: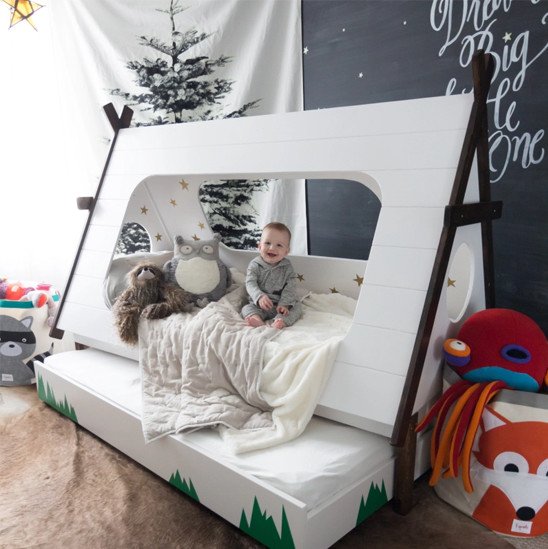 1. Tent: Sleeping in the outdoor
Most kids love camping and the outdoors. So, why not making this possible for them every single day? You can even add some details inside the tent like stars pretending that they're looking at the sky or a moon lamp, for example. The ideas are endless and this tends to be one of the best kind of beds for younger kids.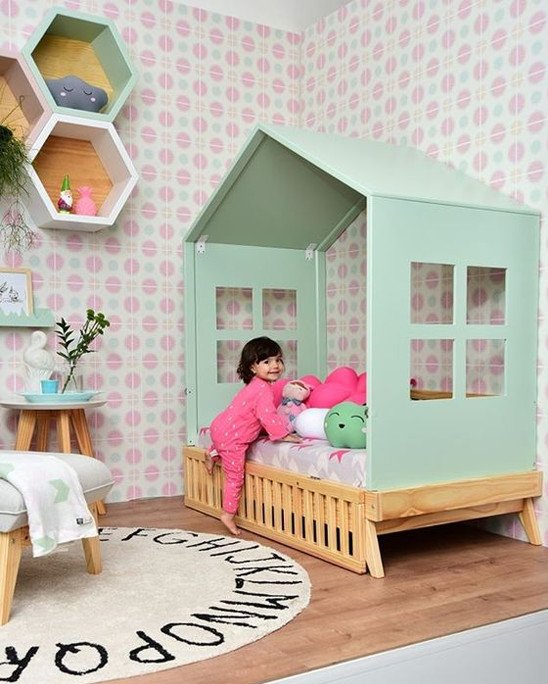 2. House bed: The imaginary space:
Can you imagine your little girl sleeping like a Princess, just like her dolls sleep in her dolls house? Or your little boy sleeping in a house where he can see all his cars and toys around him? You can eve recreate a treehouse for your kid. We bet that you loved playing at treehouses when you were a kid. We all did. So, why not make it possible for your kids inside their own room?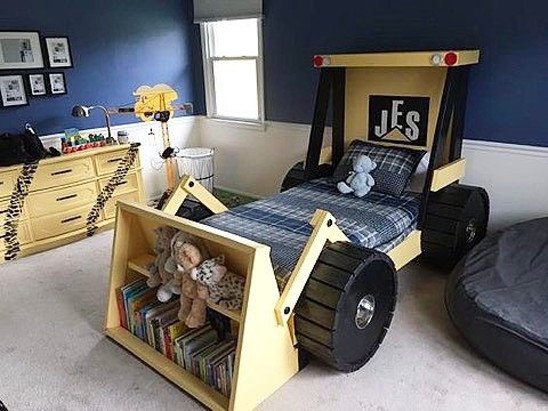 3. Vehicle: Moving Around
While there are many different cool rooms for kids, most of them tend to like some transportation vehicle. Either a carriage that takes a Princess everywhere, to a car, tractor or even a rocket that can transport your kids directly to the sleeping land. The ideas are vast here and it can be tricky to choose just one.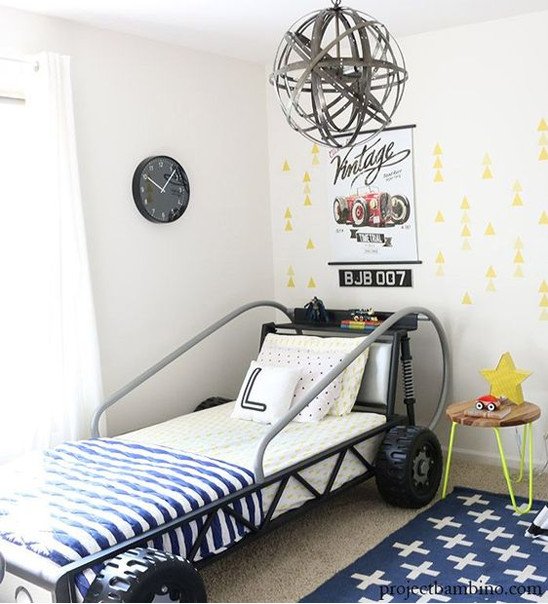 4. Slide: Go For It
You remember how much you liked to slide, right? How about having a slide right next to the kid's bed and let him take this ride every morning? One thing that you can definitely expect is that your kid will wake up in a great mood. After all, he just needs to put his sheets to the side and start his play time. What a great way to start a day.
5. Stairs: Up & Down
You know how kids love to be on the top of the world. And you can now deliver them this experience by having some stairs that go directly to their bed. Longer or shorter stairs, combined or not with a slide, the options are pretty much endless. The difficulty will be to choose between all the different options.
6. Fortress: Their Own Space
No matter if you have a girl or a boy, you know castles have their own magic and mystic. After all, little girls want to drink their tea with other princesses, and boys want to defend their own castle (or vice-versa). So, if you want to stimulate imaginative games, you can bet that having a castle fort is a great idea.
Other things that just can't be missed to complete a kids dream room
While kids dream room all start with a bed, there are a lot more details and things to add. After all, you want to make sure that you provide them with everything you can so they can develop and grow, and they are happy with their room.
Cool rooms for kids should never be mistaken with lack of security. There are always some precautionary measures that you need to take as well as you need to make sure that the kid's room is adapted to their age.
7. Climbing wall: Implement Exercise
One of the things that we really love to see in kids rooms is a climbing wall. A climbing wall doesn't only helps them exercising and making it a habit as it also helps with their development. After all, they will need to use their entire body besides figuring out the best way to climb and the path.
While a climbing wall may not be very appropriate for smaller kids, the truth is that they all tend to love it. Besides, when they have a friend sleeping over or coming to play into your home, you can be sure they will have a lot of fun, even if it is a rainy day.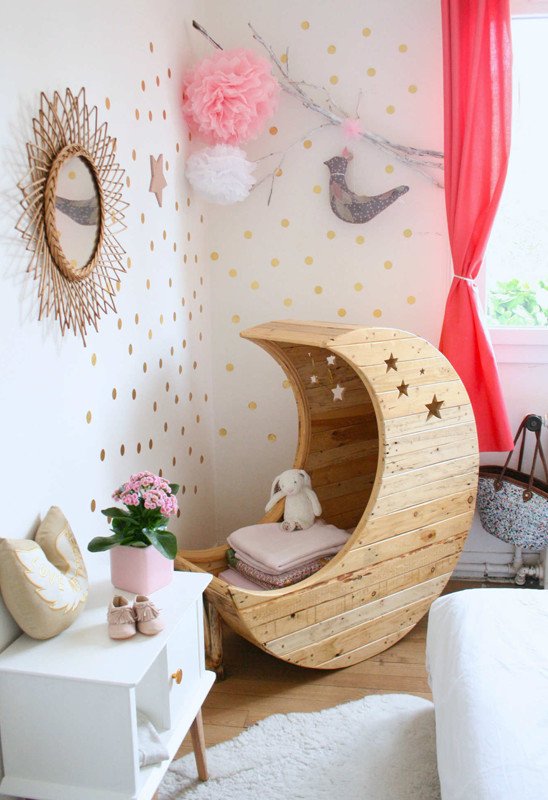 8. Nest: Creating The Perfect Little Space
While your kid may love to play with others and in the middle of the room, sometimes, kids just need their own space to be for a while, without anyone bothering them. Not even parents. So, one of the best ideas on how to create this kind of space in your kid's room is to design the perfect nest for them.
You can have some ladders or a climbing wall for them to get up there. Inside, you can try to make everything as comfortable as you can. You may put a fitted cushion on the bottom, include some walls where they can draw what they want, or even put a lego wall on it. Having some sort of window is always a good option.
Security tips: One of the major concerns most parents have when they are building a nest for their kid's dream room is that they won't be able to see what he is actually doing while he is in there or how he can call for help in case he needs to. So if you share these same concerns, you can always mount an indoor camera that will allow you to monitor what your kids are doing all the time. While this tends to withdraw them some privacy, they won't even notice the camera especially if they are still young.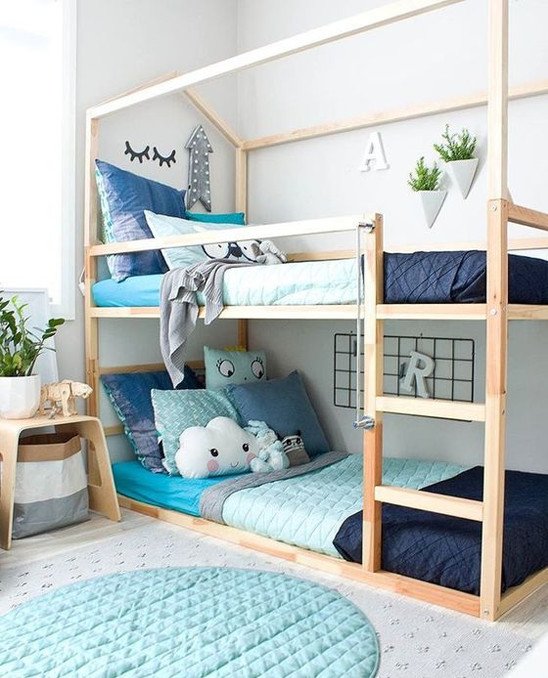 9: Crawl Space: The Never Ending Crawling
While most parents always tend to assume that crawling is just the middle step before their babies start to walk alone, the truth is that most kids love to crawl. So, you can build an extra wall dividing the room and instead of a door, you create a mini space where they are the only ones accessing the secret spot where they can have their favorite toys, for example, or their books.
This would work like a more quiet part of the room just like the nest idea. Even though you should still be able to enter in this room inside a room, you know that this is their place. And they are going to love the idea of being independent.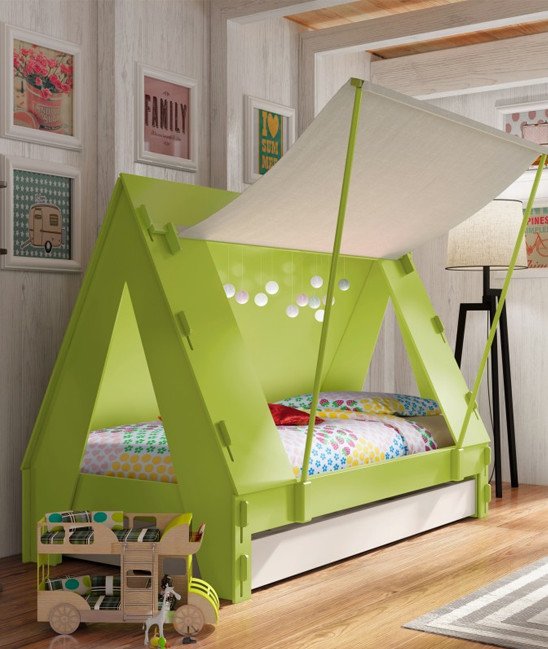 10: Secret Passage: To Enter Their Secret World
As a part of the crawling idea, you can easily create your kid's secret world. It's not difficult at all and your kids are going to love the idea and you can be sure that they will be anxious about showing it to their closest friends.
There are several ways to do this. You can take the extra wall idea or you can use a rotative door opening to enter there. You can also simply take a closet that you don't use anymore and remove the backend of it. Then, you just need to place it as the entry for their secret world. When they want to go there, they just open the closet and go through the secret passage.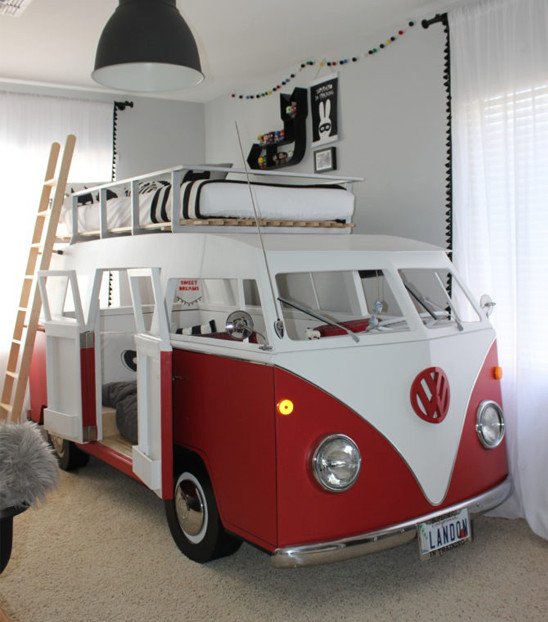 11. Secret Room: A Place to Play
All kids love a good secret. Even though most aren't able to simply don't tell, the truth is that you can easily build a secret room for them. This is one of the things that really turns a normal room into a cool room for kids.
You can either place this secret room elevated and your kid needs to climb the stairs or a wall, you can create a smaller entrance, you can keep this smaller entrance hidden and only the family knows about it, among so many others. There are so many different and cool ideas to do this. But above all, what mostly matters, is that your kid is going to love it.
12: Trap Door: Going Through The Floor
When you don't have a lot of space for your kid's room, this doesn't mean that you can or should do less. The truth is that you can have all things that you want. You just need to combine them more carefully.
So, when you want to make sure that your kid's bed is comfortable but that he still has enough space to play around in this cool room, you can use a trap door to hide the bed. This way, during the day, your kid will be able to have a bigger room to play. Besides, it's kind of fun when you show it to other people.
13: Hanging chairs and Swings: Don't Forget To Hang
Hanging chairs and swings are amazing. Do you remember that when you were a kid you needed to wait for the good weather to use the swing outside? Wouldn't you rather have a swing inside your room when you were a kid? Well, it's now possible to make it happen to your kids.
In what relates to swings, you can even paint a tree on the wall and put the slide there. It will seem that they are swinging outdoors and not in their kid's dream room.
As for hanging chairs, these are perfect, even if your kids are already older. Can you imagine them listening to their favorite songs or reading a book while sitting on them?
14: Mural: To Create the Prefect Imaginary World
Oh, and don't forget about the walls of the room as well. While you'll need to have some closet and drawers, some kind of art on the walls will suit perfectly. You can take the tree painting example or just paint the bedroom according to the bed type that you chose.
Do You Feel Inspired To Create A Dream Rom For Your Kids?
While some of these things may be easier said than done, the reality is that there are many options. And we have no doubts that everyone wished to have such cool rooms for kids in their own home.
You just need to figure out about the space that you have in the room and how you will be placing all the things that you believe are the best ones. We advise you to start off with the bed since it is what usually takes more space. However, in case you're thinking about building a secret room, a nest, or just hanging a chair or a swing, you also need to consider that kids will need to have space to play on the floor if they want.
The truth is that it is now easier than ever to build cool rooms for kids and you don't even need a high budget. Just take some of the ideas we presented and add yours as well. You can be sure that you'll be able to create a kids dream room in no time.
Join the community
All the updates and special deals directly to your inbox.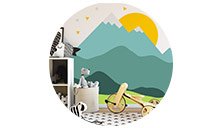 Wall Decals
Wall Decals Guide
Discover our 34 Essential tips about wall decals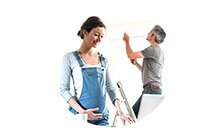 Wall Art
Top tips to install and hang wall art
Everything you need to know for hanging wall art.