This guide cover the following:
Children need to play. It's one of the best ways to learn is the fun way. So, why not taking advantage of it and increase their curiosity and motivating them to learn even more? And when you can combine it with some physical activity, it's even better.
The truth is that the weather may or may not be that good outside. However, if you have a good playroom for your kids, you can be sure they will have fun and they will always be doing different things.
So, how can you create the best playroom for your kids? What do you need?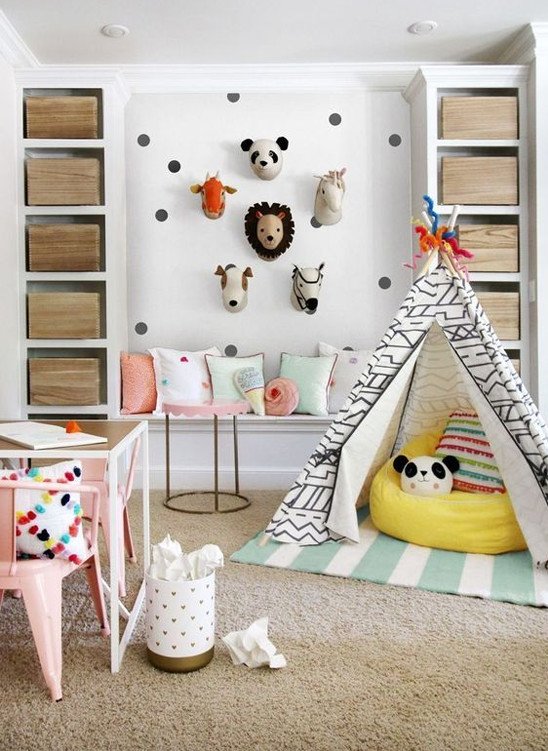 Playroom Furniture That Kids Will Love
When you're thinking about the furniture you need for your playroom, you want to make sure that you create different areas inside it, even if it is a small area. While you should have a place (table or desk) to draw/work/study, there should also be a place to play on the floor.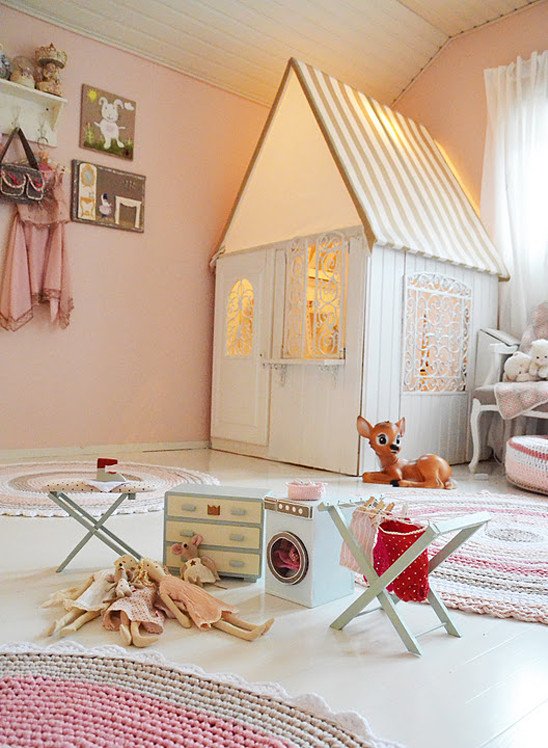 1. Rugs and playmats
A good idea for your playroom flooring is to use floor mats, play mats, or even rugs. This will allow your kids to play on the ground without getting cold and they will definitely be more comfortable.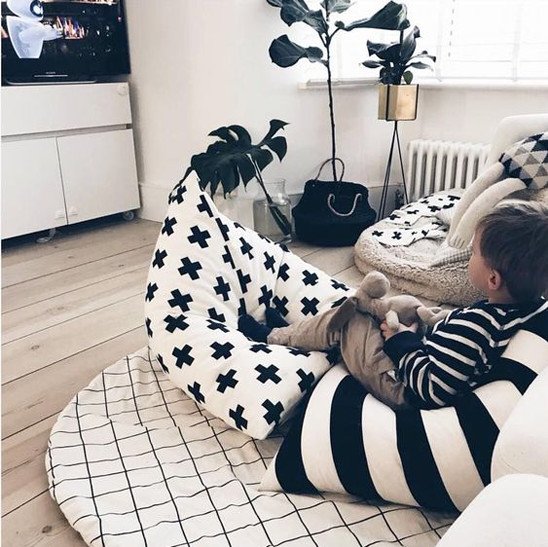 2. Seating
Then, you should think about having an area where you can place a sofa or some adult chairs. This will allow you to participate in their games or just be present with them. Besides, it can be a great place to hang out with their friends when they are older.
3. Bookcase
Having a bookcase is something essential. After all, kids love to use their imagination. And what better than a couple of books to bring them the inspiration they need. Besides, reading (looking at) stories for your kids as well as motivating them to read on their own when it's time is a great way to increase their love for reading.
4. Table and chairs for kids
So, with this said, you also need to have a table and some chairs specially designed for kids. These usually tend to have bright colors which they love.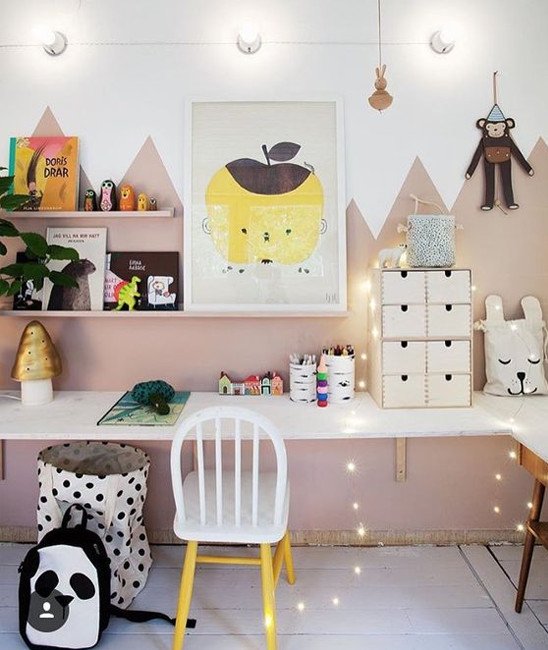 5. Workstation / desk
Although when most people think about a playroom they tend to assume that it is only for playtime, you can have a specific area dedicated to the child's homework. This way, it's a good idea to include a desk or a workstation where the child can study and do some other creative work using different materials.
6. Repurpose Old Furniture
Now you should be thinking that there is a lot of furniture to buy and you really have a small budget and you just can't afford it. However, you need to think about the big picture. The reality is that we all have some furniture that we don't use anymore and that it is simply stored. Some people even have old chairs and sofas they don't use anymore because they just don't match the new decor of your home.
So, why can't you take advantage of all this and repurpose these old furnitures? And in case your kids are old enough, they can also help. You can bet they will be thrilled by helping you with the decoration of their new playroom.
Organizing Your Playroom
One of the biggest questions that most people have when they are decorating a playroom is related to the organization. The reality is that books have different sizes, toys have different sizes and shapes. So, how can you have an organized playroom that is accessible to your children to know where he can find all their stuff?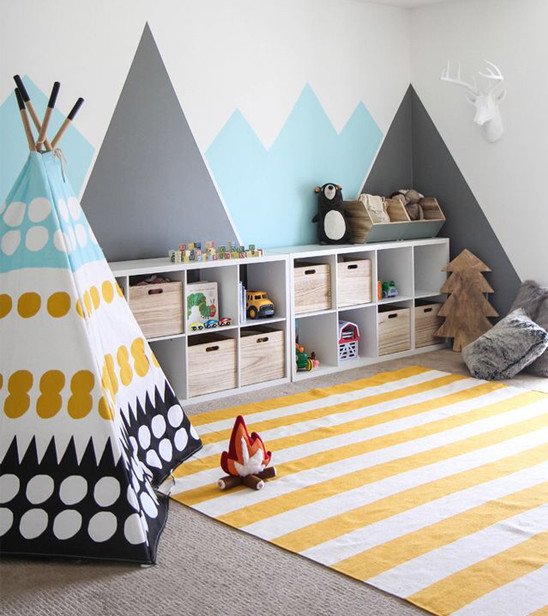 7. Storage ideas
The trick is in finding the right kinds of storage. And the truth is that you need to have different kinds of storage recipients. For example, it's always a good idea to have a couple of bins, baskets, shelves, and even some wall storage.
The smaller the area you are using for the playroom, the more careful you need to be with the storage. So, instead of extra large bins and baskets, try using smaller ones that can be mixed with other boxes. Wall storage tends to work great for bookshelves as well as for keeping games, DVDs, CDs, among others.
In the workstation or desk that you should have, you can incorporate some drawers to keep all the school material well organized as well as other materials that your kids like to use for painting, for example.
8. Organization tips
If there is something that you will always need to do on a regular basis is to get rid of all that stuff that your kids just don't use. Even if the area that you're going to use for the playroom is big, you can be sure that things tend to accumulate.
And sooner or later, you'll need to start purging stuff and getting rid of it. So, why not start fresh? After all, you already need to check out the things you want to place in there.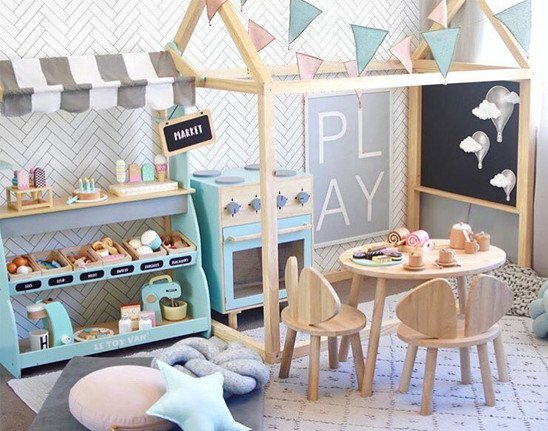 Playroom Decoration Ideas
9. Colors
One of the things that all playrooms have in common is a lot different and bright colors. And this is great for them. So, this can be your starting point for your decor. However, what else can you do besides painting the walls with yellow, red or green?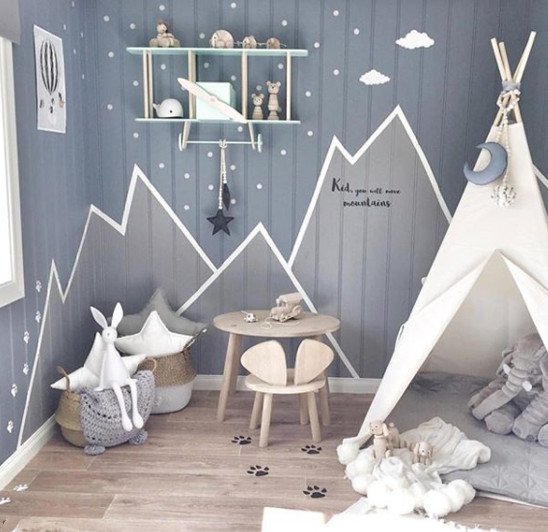 10. Wall decals
The truth is that there is a lot of things you can do that will make your playroom very attractive for your children. Even though you can have all of the walls painted with some bright colors, you can opt to have some of them (or all) with some wall decals or wall stickers. There are a lot of different patterns, some adapted to children. In fact, your kids can actually help you choose one pattern they like.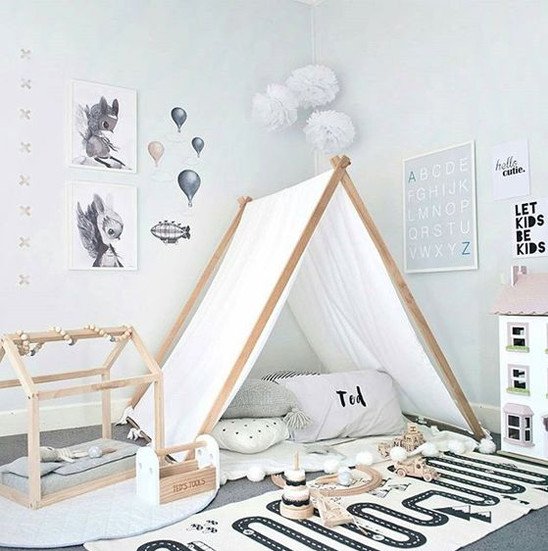 11. Flooring
In what is concerned with the flooring, you want to make sure that it is always comfortable for them to be sitting there. There are a lot of toys that most kids prefer to play with on the ground and not on a desk, for example. So, using a rug or a play mat can be a great idea. Just think about a motive, color, or pattern that appeals to your kids.
12. Curtains
Then, you just can't forget about the lighting. Lighting is absolutely crucial and you want to make sure that your kids are able to see everything, everywhere. So, if there is a window in the playroom, please ensure that you use some curtains that allow some natural light to get inside.
13. Lighting
However, you also need to be prepared for the days where the sun is just sitting behind the clouds. In this case, you should think about having some small lamps spread through the area, and a bigger lamp on the ceiling. In case you decide to have a desk or workstation in the playroom, make sure that you have the right kind of lighting there as well, especially if you want your kids to study in this area.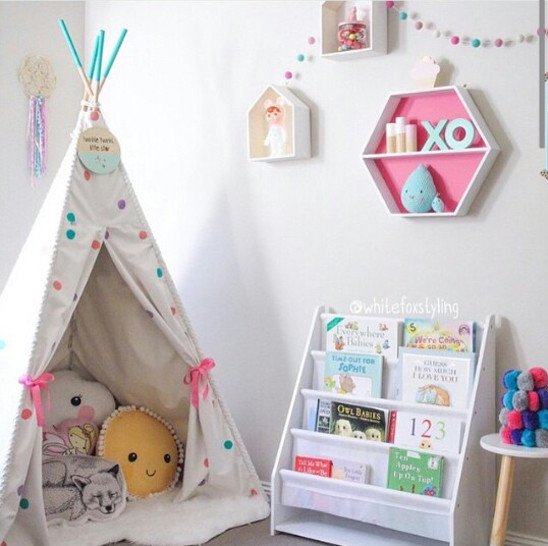 14. Reading corner
One of the things that we really like to see in a playroom is a reading corner. You can simply have some pillows spread on the ground or some small puffs. Just enough to make this little corner cozy and comfortable.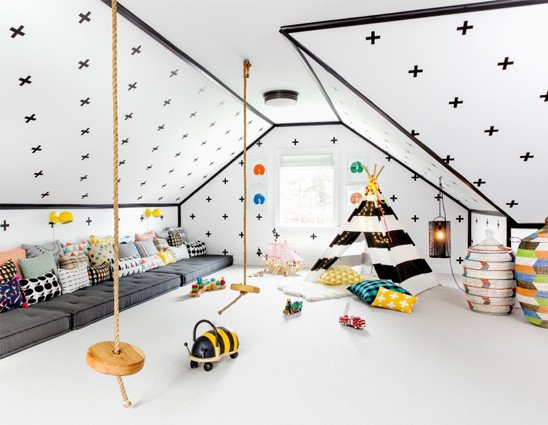 15. Kid's gym: Climbing wall and monkey bar
If you have space, why not have a monkey bar or a climbing wall install? This is usually something that most kids love. Plus, it will be perfect for those special days when they need to drain there energy.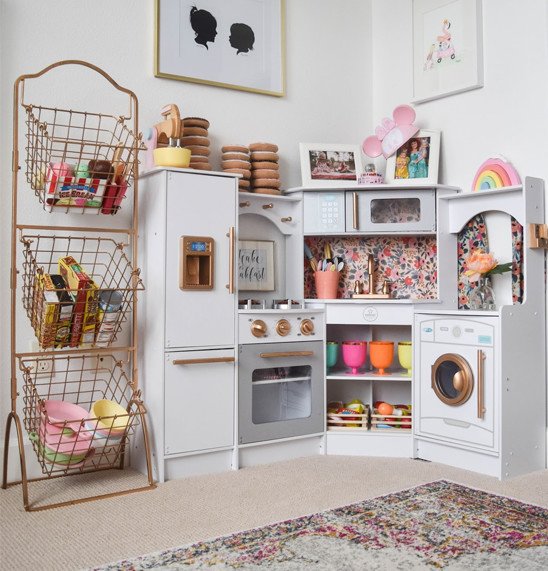 Why Not Create A Mix Room
Even though most people would like to have a big house with a huge playroom for their children, not all of us can afford it. Besides, even if you have a big house, you may want to keep an eye on your kids more closely. So one of the best things you can do is to create a mix room. But what do we mean with a mix room?
16. Office/playroom
Let's say that you work from home or that you have the freedom to bring work home on some particular days. If this is your case, you may want to include the playroom in your office. What you can do is to set a space for your desk with your computer and everything that you need and dedicate the rest of the room to the playroom.
18. Kitchen with a play corner
Other parents like to have their kids playroom next to the kitchen. When both parents work, one of the most common places for the family to hang out together is in the kitchen. So, you can also dedicate a part of your kitchen near to the eating area, for example, for the playroom. This way, you can be paying attention to your kids while you're cooking and cleaning and talking to them at the same time.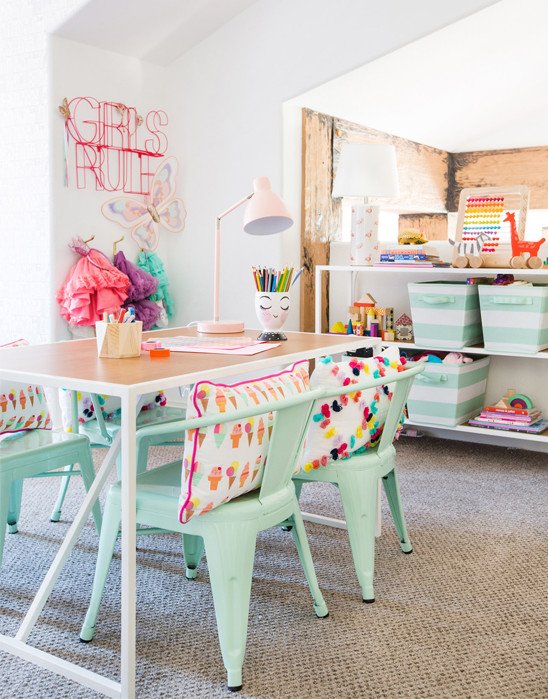 19. Art studio
In case you believe that one of the most important tasks as a parent is to entice creativity and the imagination of your children, then an art studio is a great idea. You can simply create an extremely cozy area where your kids can play games, draw, and paint on their craft table.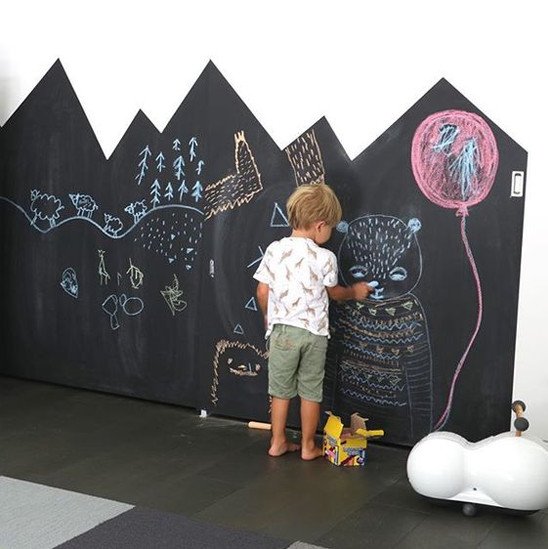 Think About Your Kids Safety
As a parent, you want to make sure that there are no accidents involving your children. However, no matter if your kids are still babies, toddlers or even older children, accidents can happen. So, you need to make sure that you take some preventive safety measures to avoid everything that can go wrong.
20. Don't forget the corded blinds
One of the things that most parents tend to forget about is related with corded blinds. Even though they may look stunning in the overall decor of the playroom, make sure that you don't leave the cords hanging out. A baby or a toddler can access the cords and he might hurt him severely.
21. Cabinet doors
The truth is that the smaller the children, the more careful you need to be. For example, ensure that all the cabinet doors are protected as well as any corners where your kids may bump into with their heads.
22. Paint
In case you children love to paint, you just need to make sure that you never leave the paint accessible to them. While for a 5 or 6-year old child this may not be a problem, for a baby or a toddler can be easily swallowed and the paint can be toxic.
23. Renovation work
If you're taking our advice and you'll be repurposing old furniture and making some electrical changes, the best thing you can do is to do all the heavy work by yourself and far away from the children. When it is already safe, they can come along and help you with some decor tasks. However, when you are dealing with heavy tools, toxic products, and electricity, it's better for them to stay away from your working area.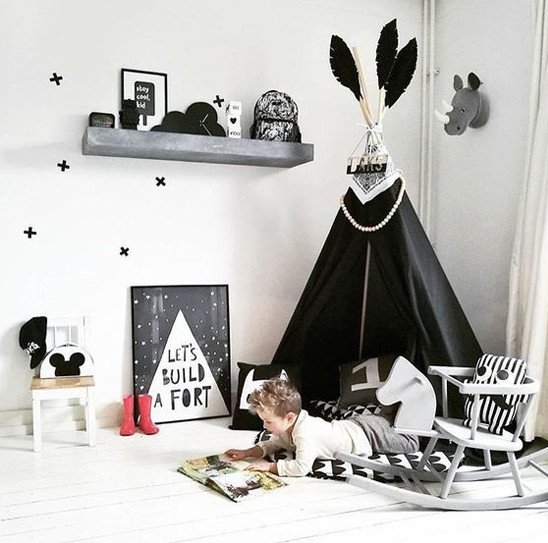 The Educational Benefits Of having a Playroom
One of the activities that most pediatricians tend to agree that are great for children is pretend play. And this is one of those activities that can be easily integrated into the playroom that you are creating.
You could just arrange some space for the dress up closet and a small corner to the curtained stage. But pretend play can also come into place by reading or listening to a story.
The reality is that pretend play has a lot of benefits. One of the most important ones is the development of social and emotional skills. After all, when your child is in pretend play, he is taking the role of someone else and trying to understand their attitudes and feelings.
Besides, this is a great way for children to learn to share their space with others, develop the problem-solving, and sharing responsibility. However, pretend play also has a huge impact on the language skills. Even if your child is still a toddler, you'll be surprised at the words he might say when he is playing alone. And in case you arrange him to be with another toddler, he will be discovering that he can make a decision to end the story in a different way if he wants too.
Another huge benefit of pretend play is related with problem-solving. The truth is that no matter if the children need to look for the best material for a part of the show or if they just want the same role, they will need to develop their thinking ability that will help them solve the problem they are having, without keep asking for the parents help.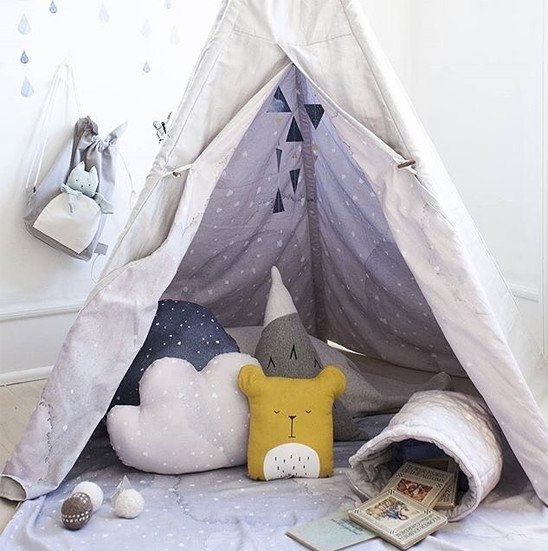 Conclusion
As you can see, there is a lot that you can do to make a playroom a pleasant area for your children. Even though there are tons of things you can do, you should really think (and ask) about the activities that your children prefer to do. This can make all the difference in the wall decoration, the materials used, the furniture used to store all their stuff in a way that it is still accessible to them, among others.
Join the community
All the updates and special deals directly to your inbox.