How To Save Your Baby's Room Walls And Your Budget
If you're like most persons, then the thought of putting holes in the wall to get the décor that you love makes you cringe. Luckily, there are several wall and paint saving alternatives for you to utilize. My personal favorite is sticky tack - yes, the kind they use in schools. It is easy to find, cheap and amazing to use for upper wall borders. This would be a great alternative if you're like me and don't like the idea of spending an inordinate amount of time and hassle messing with wallpaper borders.
Another good tool to have would be the picture hanging hooks with the strips on the back. This is a sure fire way to avoid nails while hanging wall décor . Something that is absolutely perfect to use while decorating a nursery or room, in general, are stencils. There is such a variety of characters and designs which make them a must for a project like this.
Picture Hanging Fundamentals - Tips and Rules for Hanging Pictures
Once you have your pictures all picked out for your baby room décor and you're ready to hang, be sure to keep in mind this list of wall decoration ideas:
Location, location, location! Choosing the perfect spot is key.
If it is only one picture make sure it is centered on the wall and large enough for the available space, otherwise, it will look like a lone island in the middle of the sea.
For medium-sized pictures, arranging them in twos diagonally results in an eye pleasing setup. If you have several small pictures, group them together in a square formation leaving at least a two-inch gap between borders.
Use a level and measuring tape to make sure your wall decoration is even and tilted.
These are just a few basic picture hanging décor ideas to get you started if you are not the art décor connoisseur you would like to be.
Installing Hardware You May Need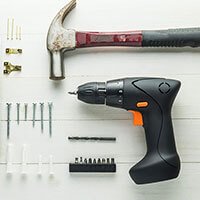 Even though there are so many alternatives to avoiding nails, no matter your décor ideas you won't be able to completely escape of installing hardware. For significantly large or heavy pictures you will have to drill a hole or two so here is some important must know information: The most elementary hardware to utilize would be the screw. In particular, the drywall screw would be a good choice, one that isn't beveled all the way to the head which will make it easier to hang pictures and other art décor. A screw placed directly in drywall or plaster isn't going to be very strong so make sure you have an anchor. Drill a hole the size of the anchor, push the anchor in the hole and use a screwdriver to turn the screw by hand.
If this sounds relatively simple that's because it really is. You don't have to be a professional carpenter or interior designer to get the look you want for your nursery. All you have to do is follow these simple tips and ideas and you will be on your way to enjoying your decoration in no time at all.
Join the community
All the updates and special deals directly to your inbox.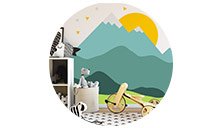 Wall Decals
Wall Decals Guide
Discover our 34 Essential tips about wall decals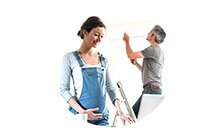 Wall Art
Top tips to install and hang wall art
Everything you need to know for hanging wall art.