This guide covers the following:
17 Things to Consider Before Buying a House Bed
1. Size Of The Room
You need to make sure that you have the right measurements of the room. The floor space available, but also the height of the ceiling. In case of you already have any other furniture, please take all the measurements of those as well. This will help you to choose the bed with the right size and shape for your kid's room.
2. The Height Of The Ceiling
The height of the ceiling of the room is also important. While this tends to be a more important factor when you are considering buying a loft bed or a bunk bed. A house bed can be higher or lower in height, depending on the shape of the roof. Also, if you have a different room shape, you may also want to take notice of it.
3. Age Of The Kids
While some house beds are meant for making the transition from the crib to a toddler's bed, other house beds are designed with older kids in mind. Besides, pay attention to the weight capacity.
4. The Mattress
If you already have a mattress for your kid bed, make sure that you will be able to use it on the one that you choose. As you know, there are many different mattresses thickness and size and they may not suit the dimensions of the house bed that you buy.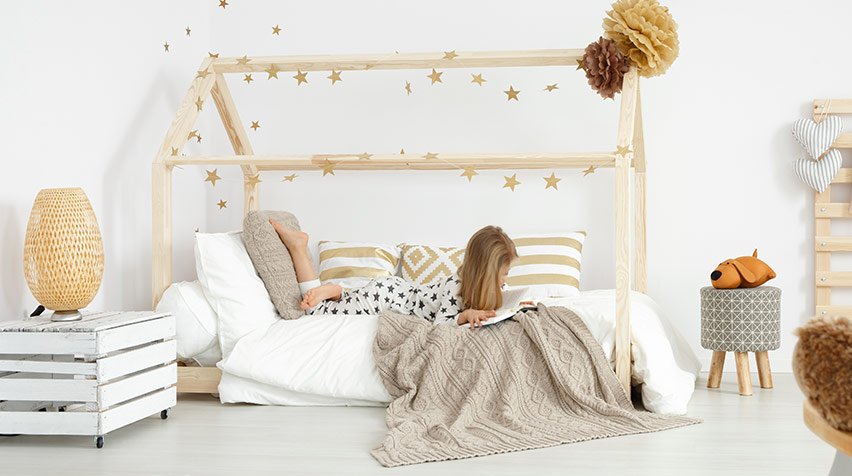 What Are The Options?
If this is the first time that you are looking at house beds, you need to understand that there are many different beds on the market. Some are meant for older kids and others for toddlers, they vary the materials used. The mattress will depend on whether the house bed includes guardrails or not, among others.
Since there are so many differences, I decided to show you the main 6 categories of house beds.
5. House Shaped Floor Bed
This is the kind of house bed that is usually based on the Montessori principles. In case you never heard about it, it states that a bed is not only a place to sleep but also a place to play. And this is exactly what you get in this kind of house bed.
6. House Bed For Toddler
House beds for toddlers are usually low to the ground. The mattress can almost be in contact with the floor or the bed legs are small. This is great to ensure that your toddler won't hurt himself if he rolls off his new bed. Also, this type of house beds include both headboards and rails. Depending on the bed that you buy. they can be removable.
7. House Bed With Storage
When you have a small home, you know how storage is important. And even if you have a large bedroom, storage is never enough, Especially when you have kids. So, one of the best things that you can do is to buy a house bed with storage. This usually translates into a drawer or two under the bed.
8. House Bed With Play Features
You already know how important it is for kids to play and how this can help them develop. So, buying a house bed with play features is a great opportunity. This type of house can include a fence, a ladder, a chimney or a door. Some have a spacial curtain to hang over the structure to pretend it's a home or a castle that your kid needs to defend.
9. Full-Size Mattress House Bed
One of the main concerns among parents is that their kid's room decoration won't last over time. In case you're looking to prevent this from happening, one of the best choices that you have is to buy a full-size mattress house bed. After all, you'll have extra space for reading their bedtime stories and you won't need to change the mattress or the bed while they grow.
10. House Bed With Trundle
One of the best things about house beds with trundles is that you always have an extra bed when you need. Perfect when a relative has kids and they spend the night at your home. Also, when your kid decides to invite a friend for a sleepover, you don't need to worry about finding an extra bed.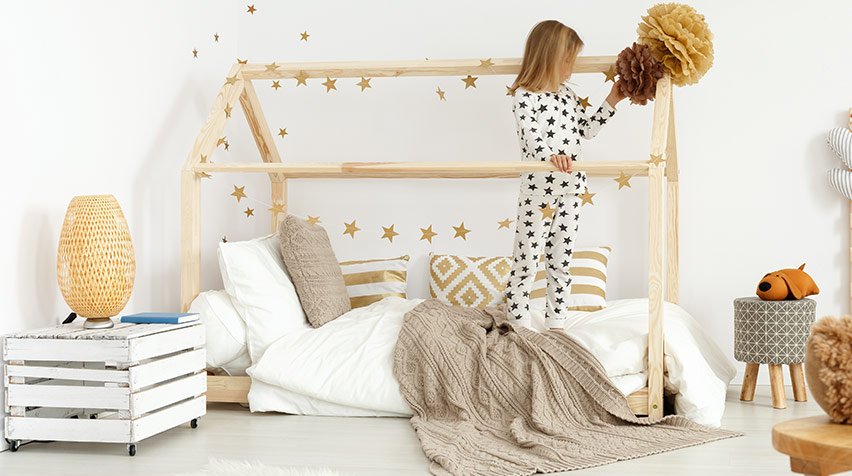 The Materials
While most house beds tend to be made of wood, there are some that are made of metal. But what's the difference? Which one should you buy?
11. Wooden House Beds
Wooden house beds tend to be very sturdy. So, if you're looking for a bed that you can keep for many years, this may be the best choice. Also, wood tends to give a cozier atmosphere to a room that metal doesn't. However, there are some spines among roses as well. The huge difference in pricing is definitely a con. Wooden house beds tend to be expensive or really cheap. It can be hard to find a good deal.
12. Metal House Beds
They are resistant to scratches, they are strong and easy to clean. However, the coziness of the room may disappear if you don't add other decoration items. In addition, if you're moving or changing location often, this type of house bed may be what you need.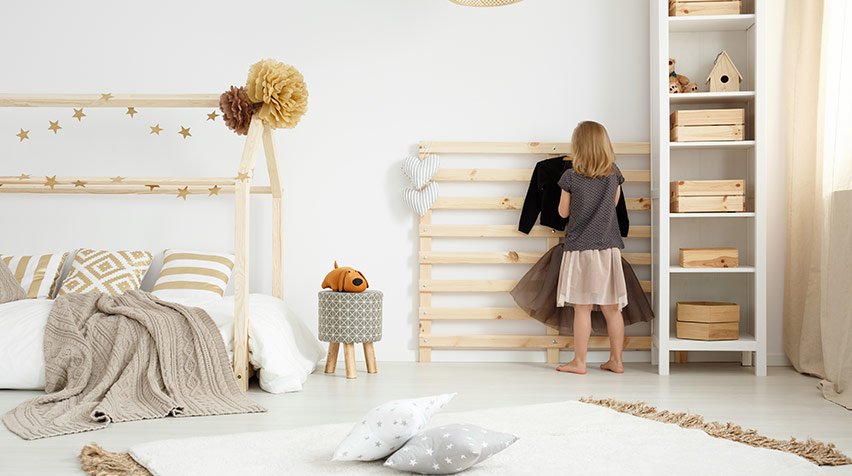 The Different House Bed Styles
While you may think that most house beds are , all the same, the truth is that they can be very different. In fact, each house bed has its own style. Here are the 5 main house bed styles that you will find on the market
13. Industrial
House beds featuring an industrial style are made of metal tubing. But, some are also made of solid wood beams. When you are looking for a bold design, this style should fit you perfectly.
14. Modern
When you tend to prefer a minimalist design, then modern house beds are for you. The truth is that they tend to have clean lines. Also, they tend to suit fairly well any room decoration.
15. Contemporary
If you like unique shapes and design, the contemporary style is for you. It usually includes different materials and styles that make any house bed stand out.
16. Rustic/Farm
If you're looking for a rustic style for your kid's bedroom, this is the style that will suit you. Traditionally, this kind of house beds include fences as guardrails. This will give a cute and farm looking decor.
17. Scandinavian Style
When you like simple things, without any adornments, the Scandinavian style is for you. In case you love the wood color, no matter which kind of wood, this is the style that you should go for.
The Perfect House Bed for Your Kid
Now that you know the different factors to consider when you are looking for the perfect house bed for your kid, you can be sure that you will find the one that suits both your needs and your tastes. You will be able to create an amazing decor for your kid. A room where he can develop his own personality, play, sleep, and have his happy place available for him, anytime he wants to.
House Beds To Buy Online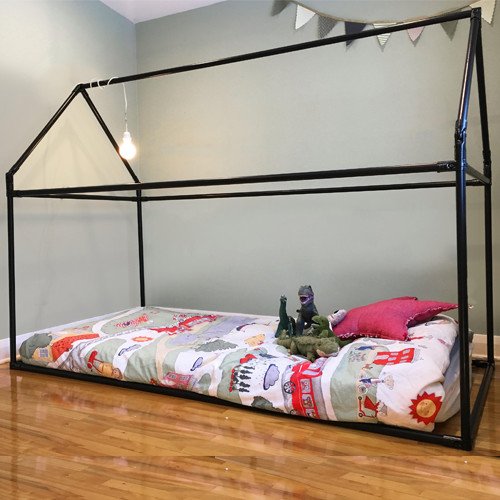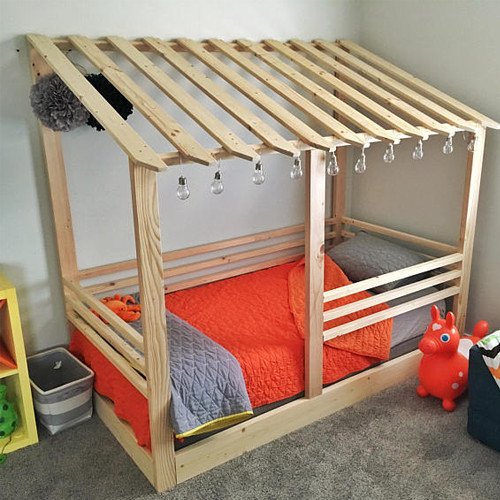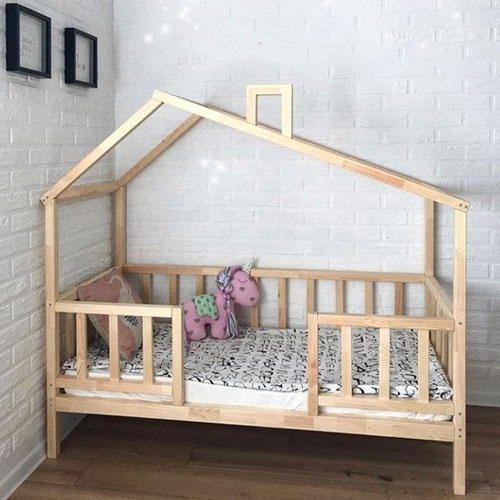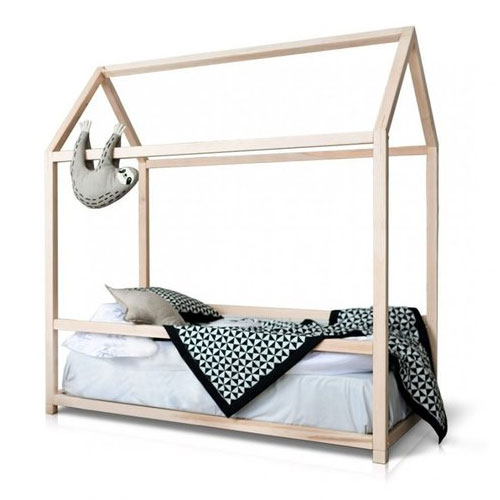 Join the community
All the updates and special deals directly to your inbox.
Other Types of Kid Bed to Consider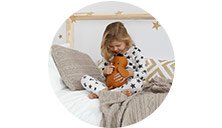 Kid's bed
House Beds
A Simple Guide to Help You Choose the Perfect House Bed for You Kid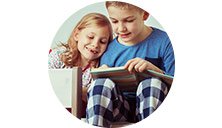 Kid's bed
Bunk Beds
18 Things You Should Know About Bunk Beds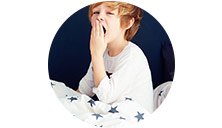 Kid's bed
Loft Beds
12 Things to Consider Before Buying a Loft Bed