Appluying vinyl decals and stickers
Whether you're using your pieces for nursery wall stickers or children wall stickers, or even for your adult wall, they can add a unique element to your room's design. Here are some tips on how to work with the decal.
How to apply wall art
Applying your wall art stickers is simple, but it does take some forethought. If you have a small number of pieces, it may be easiest to just remove them from their backing and place them on the wall. If you have a lot of pieces, you may want to see exactly how they look before you commit to placing the vinyl wall decals. In this case, you can cover your wall with paper by taping large sheets of butcher block paper or any cheap paper you find. Tape your vinyl wall art to the wall. Be sure to tape it on the back only so you don't ruin your artwork. This is a great way to see the final look without committing to it. You can also take a picture of the wall and show it to friends to get their opinion on how to place your pieces most effectively.
How to put up a vinyl wall decal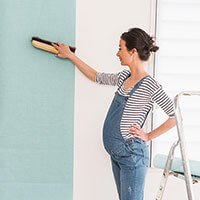 When it comes to actually hanging the wall art stickers, it should not be a problem. The stickers come with an adhesive on the back. This makes hanging 1) easy and 2) permanent. You won't have to worry about your pieces falling off or shifting. The adhesive makes them stay in place for years to come. Again, if you test out your pieces, you can easily design your wall and then place your pieces exactly where you want them.
How to take wall decals off?
The other thing that people love about wall art stickers is that they are removable. This is why they are such a great option for renters or even college students who won't be in a location long-term. You can easily use the peel and stick quality of the pieces to move them to other areas of your room or home, or completely take them down. The adhesive won't damage your walls and there will be no signs that they were even posted!
How do I apply my wall art?
Applying your custom wall decals is easy as long as you remember to work out air pockets. This is the most common issue in applying wall decals. The good news though is that it is easy to work out all air. When you position your piece, remove the backing, and position it on your wall. Start from the center and work out any air, pushing it towards the edges. If you have more pockets, try lifting an edge and tightening it to the wall to eliminate them.
How to put wall stickers on the wall?
Putting your artwork up on the wall is simple but you should remember to: 1) plan the design; and 2) work out the air bubbles. If you are planning the complete look of a room, then drawing out how you want your pieces to be positioned can be helpful. For nursery wall decals or wall decals for kids' rooms, the designs may be larger and require more pieces to complete the look. This is where good planning can come in handy. If you have a simple design using wall stickers for kids, you can have them help you to get rid of the air bubbles. As long as they are able to reach them safely, they can help!
Wallstickers
Using wallstickers is a great way to set the tone of your room. It creates a nice atmosphere and is customized based on your artistic vision. Wall art decals come in a large variety too, so finding ones that perfectly convey your design preferences will be relatively simple. The next time you are decorating a room—whether it's a permanent home or a temporary dorm room—use wall décor stickers to accentuate it. You will love the results and your guests will be happy they came!
Join the community
All the updates and special deals directly to your inbox.
Need help with installation?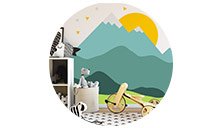 Wall Decals
Wall Decals Guide
Discover our 34 Essential tips about wall decals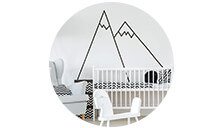 Vinyl Decals & Stickers
How Vinyl Wall Decal Stickers Work
First time buying wall decals, you might want to know how they work.