Get inspired, check our painting selections!
When shopping online for painting, you will find all sort of styles from a wide range of artists. Before you start digging in all the online art gallery out there, have a look at those décor ideas.
Painting for a kid's room?
Paintings are some of the most widely used wall decorations in history. From early times, painters have always produced spectacular pieces of art. People like Michelangelo and Van Gogh have wowed the world with painting works that have been described as pure genius.
Historically, Italian architecture always had a commissioned artist whose job was to decorate the walls with their works. The walls and paintings of the halls and basilicas constructed then still bear witness to this fact.
Paintings can be original works depicting any image conceived in the mind of the artist. They can also be original works the artists may have been commissioned by a client to work on. This can be a portrait, a picture of a cherished object and so on – the possibilities are endless. The common factor is that an artist utilizes brush and paint to produce the artwork on any surface of choice.
Another kind of painting to consider when choosing wall decor is reproduced works. Famous artworks are usually reproduced to painstaking quality by persons other than the original artists.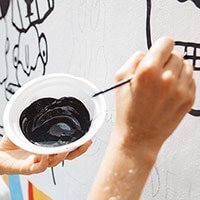 Factors to consider about wall paintings for your kid's room
While it has been established that paintings rank among the best possible nursery wall decorations, there are more than a few factors to take into consideration.
1. Quality of the artwork
A painting is only as good as the quality of the work done to produce it. Shoddily painted art can never bring out the desired beauty. Before buying or ordering painted canvas, it would be wise to know what kind of quality to expect. The track record of the painter in a case of commissioned works is a good indicator. In the case of buying readymade works, expert opinion is extremely important.
2. Price for the painting
Compared to other types of wall decorations, painting wall art is expensive. The cost of original pieces can be astronomical, but typical nursery room paintings should not cost an arm and a leg. Ordering baby canvas paintings or such other such personal pieces will cost less than the works of accomplished artists; however, that does not mean that they come cheap. In fact, generic nursery paintings will be the best bet of shopping for decor on a budget. If it so happens that money is not an issue, then those originals or professional copies will not be a bad idea although they may not necessarily be baby friendly.
3. Theme and subject
The final factor to consider is the theme of the painting. It has to be both baby-friendly and somewhat baby-themed. It should not be too serious or scary. Bright-colored paintings will work best.
Where painting can be found
Art galleries, gift shops, and online stores are the surest means of acquiring nursery room paintings. Buying paintings online may not give as much freedom in terms of options as would be found in-store.
Join the community
All the updates and special deals directly to your inbox.
Ready to intall your painting?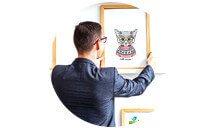 Wall Art
How to select and choose wall art
Selecting wall hanging art for a nursery is the best part.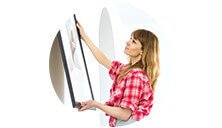 Wall Art
Tips for arranging and spacing wall art
The installation of wall art need preparation.