Get inspired, check our decors and ideas
Looking for a poster on the internet is like looking for water in the ocean! Before you get lost in this giant sea, have a look at our hand pick selection of posters.
Why choose poster art?
Posters are printed materials made to be attached to surfaces like walls. They are usually used as decoration or as a means of passing information like adverts. Our focus in this guide will be on their use as a means of decorating spaces in the home especially children's rooms.
The practise of decorating walls with poster art began many years ago. People have been creating poster designs and using them to decorate their living spaces since the 1860's. Although the process has had more than a few modifications since, it has only become better with time and words are not enough to describe the results.
Poster art pieces can be copies of famous artworks as seen in public places like hotels. They can be tailored based on the choice of the owner of such poster art pieces.
There are many reasons why people seem to favor this type of wall decoration above most others. One of these reasons is the wide range of choices available. No matter what a person's preferences are, there are poster art designs for them to choose from. Posters can even be custom-made to reflect whatever is desired – personal pictures, favorite quotes, etc. The possibilities are endless. They are also relatively inexpensive compared to other décor types such as paintings.
Where to find posters
They can be found just about anywhere from gift shops to online stores and art galleries. Print posters are also done in large quantities by many printing outlets. These kinds of posters are not as unique their custom-made couterparts.
Poster art for nurseries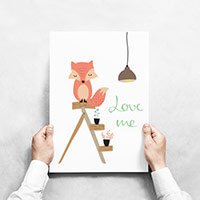 Selecting art for a child's room is even harder than it is for other parts of the house. Children are still growing and their preferences will definitely change as time passes. The first reason to choose poster décor is the cost. As it might have to be replaced quite soon, it would be wiser to pick lower-priced posters for a nursery.
There are many types of nursery wall art posters that can be bought for children's rooms. The key factors to keep in mind are the material from which they are made of and the content of the art. It is of utmost importance to watch out for children-appropriate content, so anything with explicit or gory images will not be suitable. There are also 3D posters available to make children's favorite images. They never get tired of those!
Poster art is the best type of decoration for any nursery. Compared to paintings, poster art is the better option to facilitate learning. Educational material and pictographs can be printed onto the posters and serve as both design and learning material. Children love vibrant colors, and with the help of modern technology, poster prints are brighter and more captivating than ever.
Join the community
All the updates and special deals directly to your inbox.
Ready to intall your poster?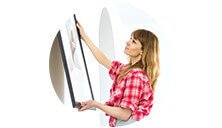 Wall Art
Tips for arranging and spacing wall art
The installation of wall art need preparation.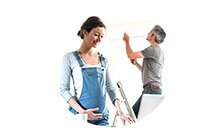 Wall Art
Top tips to install and hang wall art
Everything you need to know for hanging wall art.