Wall decals can be one of the cheapest options when you want to decorate your walls. Vinyl wall art is gaining in popularity. You can even find stickers for the holidays! The decals can be used in various rooms of the house and you can find custom wall decals to ensure that you get exactly what you want in terms of color, style, and size.
Here are some tips to help you with not only ensuring a decal will stick to the walls, but also with how to store and recycle the wall art stickers.
Getting Vinyl Wall Decals to Stick
The great thing is that most of the wall décor stickers that are on the market are designed to peel and stick. This makes it a lot easier to hang than having to get out a hammer and picture hanger hooks or nails. If your wall art won't stick, try using a credit card to help with the decal. Rub firmly so that the glue gets the chance to adhere to the wall.
It's also a good idea to:
Clean the surface well first
Use rubbing alcohol on the surface
Use a hair dryer to make letters more flexible
You may want to use nursery wall stickers on windows, too. These can peel just as easily from glass as they can from drywall. Feel free to decorate every surface with nursery wall decals and then re-use them as you desire.
Wall stickers may not always work very well on textured walls. This means you have to explore the use of wall stickers that are specifically made for textured walls. Otherwise, try applying a little bit of glue (for e.g. a glue stick) on the back of the stickers and then use a credit card flat against the wall to help rub it into place.
Storing and Reusing Wall Art Decals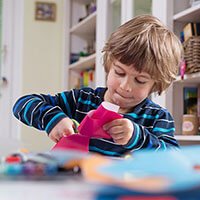 It is not uncommon to move stickers from one room to another. This is especially true for children's wall stickers. You may also choose to take kids' wall decals if you move from one home to another. There are also holiday decals and you will want to take them down and re-use them year after year.
If you are going to take them off the walls, carefully peel at one corner. Then place them on wax paper and roll the sheet of paper up. Place them in a Ziploc bag until you are ready to use them again. This will help to protect them and prevent the glue from drying out.
Then, when you go to reapply the vinyl wall art to another wall, simply place them on there. If it looks like they are starting to peel off a little bit, grab a child's glue stick. This should provide just enough adhesive for the sticker to stick to the wall.
Applying, storing and recycling wall stickers for kids (or anyone else) is easy, as long as you know how to take good care of them from the very beginning.
Join the community
All the updates and special deals directly to your inbox.
Need help with installation?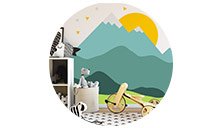 Wall Decals
Wall Decals Guide
Discover our 34 Essential tips about wall decals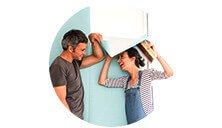 Vinyl Decals & Stickers
Install and apply vinyl decals
Wall decals are a great way to customize your room to your style.