Where And How Much Art to Display?
Wall Art Ideas For Your Child's Bedroom
Do you want to decorate your child's room but don't know where to hang wall art or which wall to hang art from? If yes, then you are not alone. Thousands of parents and parents-to-be often find themselves asking these questions. Today, we are going to learn a bit about wall décor and get a few nursery ideas and kids' room décor ideas. We are going to look at where to display art and how many art pieces to display at any given time.
Where to Hang Wall Art
First things first - You will want to buy art decor that is both creative and fun to hang. Why not involve your child and get them to help you pick out the art pieces for their room? Or better yet, get them to draw something they like that you can frame?
Once you have your selected art pieces, you will want to hang them low enough so your child can see them. The best place to hang art in your child's room, is in their field of vision. The wall that faces the door is a good place for wall decoration.
The second thing to consider before decorating the wall with your chosen art pieces is what is going to hold the pictures in place. Are you going to use hooks? If yes, what kind of hooks? Or will you use nails and screws?
How Much Wall Art is Too Much
Wall art becomes too much when you walk into your child's room and take a look at the wall and it appears to be cluttered and disorderly. If it seems cluttered then it probably is. This is a good time to stop and consider a few new wall art ideas.
If you have pictures hanging there, aim to keep them in the range of 3 to 5 frames. Some parents opt to have a chalkboard at their child's height. Others include holiday pictures. However, try and keep it simple. Choose easy-to-implement décor ideas. If the wall begins to resemble graffiti street art then it is probably time to reconsider simplifying the wall.
Arranging Wall Art & Easy Display Ideas - Creative Display Ideas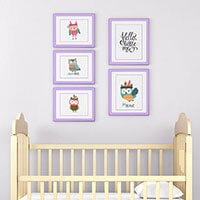 Above the Desk: If there is a writing desk in your child's room, a great place to hang art is right above the desk. This makes for easy bedroom wall décor.
Groupings Are Great: If you want to keep things simple, these ideas can help. Choose a monochrome set of images or black and white photographs. They will greatly accentuate the room while keeping it classy and simple.
Layer the Artwork: For more sophisticated wall art décor, you can recreate the same concept of layering used in most dining and living rooms. Layering will bring much-needed warmth to the room and will make it feel welcome.
Join the community
All the updates and special deals directly to your inbox.
Need help with installation?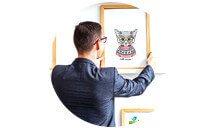 Wall Art
How to select and choose wall art
Selecting wall hanging art for a nursery is the best part.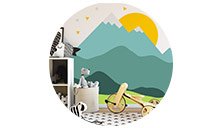 Wall Decals
Wall Decals Guide
Discover our 34 Essential tips about wall decals