How to hang wall art?
When choosing framed wall art for a baby's room, always use Plexiglas because it is shatterproof. Avoid using real glass in your children's art pieces.
Hanging Hardware
Art pieces make for beautiful wall decoration, but always make sure to firmly secure all art to the respective walls. If you are going to use nails and screws, ensure that they have been firmly bolted into place.
Another option is to use good quality picture-hanging hooks. A rule of thumb is that picture hooks with only one nail can generally hold up pictures which weigh 30 pounds and below.
Picture hooks with two nails can support art pieces of 50 pounds.
Three-nail hooks can support art pieces of 75 pounds.
With that said, keep in mind that the weight of the picture should not exceed the bearing capacity of the hooks.
Best way to decorate walls without drilling and without nails
If you don't wish to drill into the wall, you can easily use washi tape. This is a safe and non-toxic adhesive that allows you to stick and re-stick pictures on the wall without fear of peeling the paint off.
Arranging and spacing wall art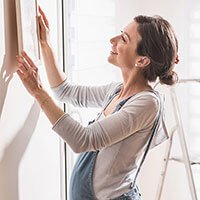 When spacing art on the wall, you will need to outline where the pieces are going to hang first, by marking out the area using tape. Taking a step back will allow you to see whether the spacing looks right or needs to be changed a bit.
For single pieces or pieces that hang one above the other, give a 40 – 60-inch distance between the center of the art piece and the ground.
When determining the amount of spacing between a group of photographs, use an inch of space on either side to create a balanced look.
Decorating your child's room doesn't have to be a tedious task. Enjoy every moment of it and make it worth your while.
Join the community
All the updates and special deals directly to your inbox.
Need help with installation?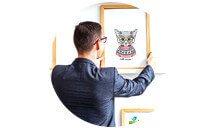 Wall Art
How to select and choose wall art
Selecting wall hanging art for a nursery is the best part.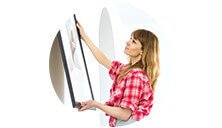 Wall Art
Tips for arranging and spacing wall art
The installation of wall art need preparation.