Get inspired, check our wall decal ideas for kids!
Finding the right wall decal can be difficult, especially in the nursery decals section. Our décor & inspiration guide will help you begin your quest for the perfect wall stickers for kids.
What is vinyl decal & stickers?
Everyone loves to change their room around, just to make it look new and different. The cost of redecorating can actually inhibit how much change can be accomplished. A great way to update and redecorating your kid's room is with vinyl sticker art.
Sticker art and vinyl wall art offer the ability to give your room a facelift without causing you to break the bank. You can decide between wall decals or wall stickers. The difference between a decal and a sticker is the method of application due to the adhesive on the sticker or decal. A wall art sticker is an example of a peel and stick application. A wall art decal is applied in the same way that a screen protector for your phone is applied. You have to peel off the film on the side with the adhesive, place the decal where you want it, smooth out any bubbles and then peel the last layer of film off.
When deciding between stickers or decals it is important to keep in mind the look you are aiming to achieve. This will help narrow down your search while looking for themes. While shopping, keep in mind also that when applied, the sticker's edge may be visible on the wall. A decal, on the other hand, will give the appearance of being painted on the wall.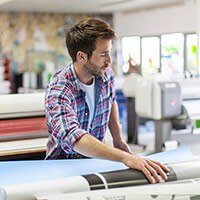 Removable wall decals - the beauty of stickers
The beauty of using this method of decorating is that you can remove the wall art whenever you get the urge to create a new look! The key to keeping removal easy is to read the packaging. Some vinyl wall decals can be removed at any time while others will recommend removal within a certain period of time.
Wall stickers and wall decals offer many styles to suit your nursery decor. The following breakdowns are just a few ideas and options.
Custom wall decals
Customizing your decal is easy. You get to choose a size, color, font and more. There are numerous sites online that allow you to customize.
Children's Rooms
There are endless options for children's wall stickers and wall decals for kids. You can start with themes for the nursery using nursery wall stickers and nursery wall decals. With each passing year, you can redecorate the room and make it age-appropriate with wall stickers for kids. As your child becomes a teenager he/she can use the art of choice to complete the project.
Wall Décor Stickers
Whatever the style you want to achieve, it can be done. Choose between inspirational sayings, themes of art, wall borders or a combination of them all.
Seasonal stickers
For anyone who loves to decorate and celebrate certain times of the year, removable art is the perfect solution.
Wall art is a great solution for long term or short term decorating. It is simple to apply and will not require additional tools or create a mess. As your life changes, so can your home. Treat yourself and explore the many possibilities available. Perfect for the DIY'er, even if you've never thought you could you can with wall art.
Join the community
All the updates and special deals directly to your inbox.
Ready to install your vinyl decals & sticker?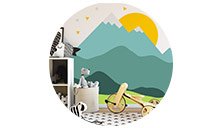 Wall Decals
Wall Decals Guide
Discover our 34 Essential tips about wall decals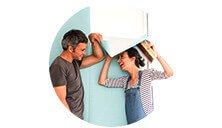 Vinyl Decals & Stickers
Install and apply vinyl decals
Wall decals are a great way to customize your room to your style.