This guide covers the following:
1. Where to Buy Wall Decals
Stores with wall decals for your kid room and nursery:
2. Tips to Applying Wall Decals
Can I Apply a Wall Decal to a
Newly Painted Wall?
It is always advisable to wait for the wall to dry before application.
It would be a good idea to wait for at least 14 days before applying the wall decal. They will not work on newly painted walls. The paint has to dry before application. The reason for waiting so long is that sometimes, the wall may look dry when it is not dry yet.
Very Important: Low VOC or Zero VOC (volatile organic compound) which are paint chemicals can take 6-8 weeks to dry entirely.
Does the
Paint Type

Make a Difference?

The quality and durability of your wall decals depend significantly on the kind of paint being used. Matte paints are the best.
3. How to Apply Decals on Special Surfaces
What
Types of Surfaces

Can the Wall Decals Be Applied to?

Before application, you should keep in mind that a Wall Decal can only be applied to certain surfaces. The surfaces have to be weather resistant, smooth and spotless. It must have little or no contamination. You should be careful to avoid heavily textured surfaces. Avoid installation on surfaces like concentrate block, suede paints, stucco, sand paints and bricks.
Where Can You Put Decals in the
Bathroom?
There are many things to consider before putting decals on your bathroom walls. The first is the temperature. Plus, you have to make sure your walls are completely dry and not humid so it can suit the vinyl. You can also consider adding the vinyl to bathroom tiles and shower surfaces for a finer design.
Do Wall Decals Stick to
Wood Paneling?
The wall decals stick to painted and plastered walls. It will fall apart if you apply it to cracked walls and crumbling spaces.
Are There Surfaces the Decals
Will Not Work on?
Wall decals are designed to be compatible with many surfaces as long as they are smooth and light textured. Surfaces like flat metals, glass, and painted walls are ideal. The decal was not designed to stick to rough or uneven surfaces. Rough surfaces like stucco, porous aluminum, cinder block and brick are not compatible. The walls must be free of dirt to avoid unnecessary peeling.
Can Wall Decals Be Installed
Over Wallpaper?
You have to know that a wall decal can be applied to certain kind of wallpaper. Most times, it is tough to remove wall decals from wallpapers.
Can Decals Be Used
Outdoors?
As long as the surface is clean and dry, then you can use it just about anywhere. You can see an example of outdoor us by looking at some car and mailboxes. You should keep in mind though that this won't last as long as the interiors. This is because it would be exposed to all weather conditions. Check for a premium vinyl for a long-lasting exterior.
I Have
Textured Walls

in My Home; Will This Wall Decals Work for Me?

You can make use of our wall decals on just about any flat and light textured surface. It can also be applied to windows and tiles. Stickers will not stay well over rough walls. As long as for hard textured, it won't work so well.

A decal also has features like an ordinary sticker. It is usually advisable to try a normal sticker on your wall. If it sticks, it is most likely that your decal would stick too. Make sure you wait for the required period before applying stickers on newly painted walls.
Do Wall Decals on
Glass Tiles?
Since glasses are smooth surfaces, they are one of the best places to apply a wall decal.
4. Removing Wall Decals
Will the Wall Decals
Damage My Wall?
Although there is no damage when the wall decals are removed, you should keep in mind the potential risks of one. When removing them, a blow dryer should be used to avoid damage.
I Know All Decals Are Removable. However, I Don't Know How to Remove Them
Without Removing the Paint.
Removing a decal is easy. Just peel up an edge with your fingernails. You should note that it wouldn't make the surface any better. It might have some chipping and might need extra work to cover it up. The more carefully you remove the decal, the more your surfaces will look intact. As stated earlier, a blow dryer would help a lot when it comes to loosening the wall decal.
Do Wall Art Stickers
Come Off?
As stated earlier, the best way to remove stickers is by using a blow dryer. If it is done too fast, it might end up damaging the wall. It should be done in a slow and gentle fashion.
How Hard

Is It to Remove Wall Decals?

Hairdryers can help when you are trying to remove an adhesive vinyl. All you have to do is to direct the heat towards the edge of the decal. Once it is warm enough, you can gently peel it off starting at the edge. You can repeat this heating process severally until you're done.
How Do You
Remove Vinyl Wall Decals?
Apply heat on the area you want to start with and keep it on until you're done removing the stickers. You can also try soapy water or nail polish remover if there are residues.
Scraping the Decal Off From a
Window
Use a razor blade and a plastic card to scrape off decals from walls. Don't forget to, first; loosen it up with a hairdryer.
How Do You
Remove Stickers

From Your Wall?

First, you have to fill up a bucket with hot water. Get a washcloth and soak deeply in the water. When there is enough heat in the washcloth, hold it against the glue. The heat from the washcloth would slowly loosen the glue. When the heat is gone, remove the cloth and start wiping the walls down with a scouring pad. You can repeat as much as you want.
When My Wall Decals Are Removed, Will
Residue Remain on My Wall?

If Yes, How Can I Remove It?

Normally, wall decals do not leave behind residues on any surface. The only exception is when it has stayed for too long. You can make use of isopropyl alcohol or other removers if you want to remove this residue. However, once you follow the instructions, you would not have to worry about possible damage.
5. Cleaning Your Vinyl Stickers
Can I
Wash the Wall Decal

After It Has Been Applied?

You can clean your wall decals. As long, as you make use of sifting clothes or sponge with cool water. Using hard materials that contain abrasives or ammonia can cause damage to the decal. Avoid cleaners that contain all these acidic qualities.
6. Reuse and Save Decals
Can You
Reuse

a Wall Decal?

No! You cannot reuse a wall decal. This is because it would lose its adhesive qualities after being applied for the first time. Some can be reused but keep in mind that most adhesive materials lose its quality after the first time.
How Do You
Save

Stickers?

Sticking them to wax papers or freezer paper is a good way to keep them. As long as you remove it gently, it can be saved along with your other stickers. They can be used for more than two years.
7. Lifetime of Wall Decals
How Long

Can Wall Decals Last?

Wall decals can last as long as you want. Everything depends entirely on how you manage your walls before application. As long as your walls are clean and dry, your decor would last for even longer than three years.
Will the Wall Decal
Crack, Fade, Peel or Warp?
You should not have any issues at all when it comes to peeling, fading and even cracking. Once a wall decal is protected from the harsh weather, it is going to last.
What Is the
Recommended Temperature?
After it is installed, the wall decal can withstand a temperature between -20°F and +150°F.
What Does
Sun Fade

Mean and What Causes It?

Sun fade occurs a surface fades slightly because of exposure to the sun. This can also be called ghosting or in most cases shading. For example, wallpaper can prevent the spot behind it from fading by blocking it from the sun. When the wallpaper is lowered, you will notice a darker spot than the rest of the walls. The same thing applies to wall decals. All this depends on placement and the intensity of sunlight that touches the surface. Sun fading can happen to any surface at all depending on the kind of paint used. Water-based paints are always advisable to prevent this. You should note that the vinyl used does not cause it.
8. Type of Materials for Vinyl Wall Stickers
What Is a
Vinyl Stickers?
Vinyl stickers can also be referred to as Vinyl Cut Decals. These stickers are cut into customized shapes and sizes to make their application easier. The ink color is printed on colored vinyl. Though they are harder to produce, they are still much better than the single color vinyl cuts.
The other type is made from many household materials. They are typically used on billboards and other signposts that can be seen anywhere. They are quite reliable, and you can use them for more than seven years in a row.
Since this material is mainly for interior use, it would surely last more than the stipulated number of years.
What Is
Removable Vinyl?
The most commonly used vinyl you can think of is the Oracal 631. It is always the best choice for vinyl decorations. It convenient to use, and this is because of the basic qualities it has. It is easy to remove, self-adhesive and easy to cut. An indoor vinyl makes it easy to design in a way that will suit your needs.
What Are Wall Decals
Made of?
Wall decals are made from vinyl. They can come with colors and customized design on it.
9. Troubleshooting General Questions
I Am Afraid I'll Make a
Mistake

When I Am Transferring the Vinyl to My Wall.

Since most wall decals are removable and easy to apply, this would not be a problem.
I Cannot Get the Wall Decal to
Transfer

to the Surface; What Is Your Suggestion?

When you come across this problem, make sure your surface and the wall decal is at room temperature. If it is not, heat it up with a hairdryer until it gets to room temperature. Be careful not to overheat it, as this will damage the wall decal.

Do not apply wall decals in humid climates. This would make the transfer difficult. Make sure that there is no residue on your wall surface especially things like grease, dust, smoke, or soot. Even smoke from a cigarette can lead to build-up on surfaces.

Make sure that your walls are clean and leave behind no residues. Feeling the wall to know whether it's dry is not usually active. A wet surface can cause breakage in the adhesive bond. Therefore, after cleaning your walls, make sure there are no remaining residues.

Press firmly on the wall decal after removing the residues with a dry rag. The wall decal will pull faster if you dampen a sponge and using it on the surface before peeling it away.

For heavily textured surfaces, some wall decals may not be the best idea. If you're in such a situation, you can use the wall decals on a different surface or accessories. If the texture is compatible with the wall decal, you can make use of your hairdryer but on a very low setting.
I Installed a Wall Decal, but It Is
Starting to Peel Off.

What Do I Do?

If this occurs, you can make use of normal washable glue. This would reattach it. Also, you should follow the manufacturer's recommendations on how best to prevent this problem. You can always reach out to us for help.
If My Wall Is
Too Textured,

What Other Options Do I Have?

If your walls have heavy or rough textures, you can still go with other options. You can use these wall decals on smooth surfaces. For example, you can use these wall decals on accessories like a mirror or board and use it to decorate your walls. This can also come out beautifully and look just as nice. You would still end up using your choice of wall decal as a home decor.
Would I
Regret

This Experience?

Vinyl decorations are unique. It gives you an opportunity to get creative with your home decor. It comes in variations and colors and adds a boost to the atmosphere of a home. It can be used both inside and outside. Would you regret using this? Well, that's a big NO. It is a perfect way to effect change in your decor. Also, it can be removable. Once you get tired of it, you can have it removed or replaced. The stickers are also unique and colorful and can make your home decoration unique.

Join the community

All the updates and special deals directly to your inbox.

Need help with installation?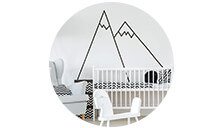 Vinyl Decals & Stickers
How Vinyl Wall Decal Stickers Work
First time buying wall decals, you might want to know how they work.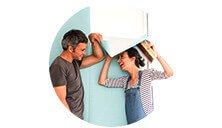 Vinyl Decals & Stickers
Install and apply vinyl decals
Wall decals are a great way to customize your room to your style.