Etsy Top Highlights
What Kind of Wall Art Can Be Found?
Shopping Experience at Etsy
Wall Décor Category from Etsy
This online market for unique and handmade items was created to bring craft fair closer to consumers. Etsy was established about 12 years ago, and since then, 54 million people have been actively registered both as sellers and buyers.
If you're in the market to purchase unique art or just want to get inspiration for your kid's room, this review should help you plan and have an idea what you should expect.
Etsy Art Category
The options for wall décor are numerous, and they are divided into several categories. There are prints, collectibles, paintings, photography, drawings, illustrations, fiber, mixed media and collage. Whatever you're interested in, it can be found with ease on Etsy.
Original Art by the artist
The whole idea behind the creation of the Etsy site is that the items are original and also unique. Although you might not find the collections of famous artists or designers, you will find something that is unique and amazing.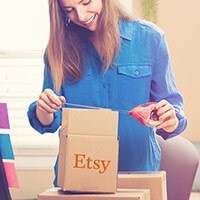 Wall Art Products
Wall Hanging: frames, tapestry, paper painting, stained glass.
Wall decals and murals: stickers that can sometimes be removable or non-removable.
Wallpapers and wall stencils: patterns, designs, renewable and reusable.
Variety
If you want wall décor for your nursery, finding that here won't be a challenge. The options are endless, and as such you might have a difficult time trying to decide what to pick.
Price Range
When decorating your nursery or kids room, a budget is necessary, but not to worry, you can get an item within your budget. Wall décor has the price range of CA$0.27 - CA$343,642.61. Please note that this price doesn't include the shipping cost.
Esty site usability
This has been made easy with pictures and options of what you want to purchase at the corner of the site. The site loads seamlessly and the font used in the design is easy to read, the colors are not distracting and there are no advert videos playing.
The quality of the image is high. Several images are posted so you see the item you are about to purchase from different angles. There is a special effect given by the site, where you can zoom and see the image closer.
There are no special tools available at this time to get a virtual try-on of the item you want to purchase. That's why there is a detailed explanation of the item and the materials used in the design. You can also contact the seller for more information about the item. A catalog might be provided.
Shipping and Return Policy
Distance from the seller matters a lot when it comes to shipping the item and how fast you want it to get to you. The seller is in charge of all the activities (custom regulation) surrounding shipping; this might come at a fee agreed upon. You have the option of tracking your item from when you bought it until it gets to your doorstep.
The seller has a policy that protects buyers when they don't get the item they paid for. The money is refunded from the seller's account.
Etsy Wall Art Best Sellers
Customer Reviews
What other people have to say about their experience with Etsy
Already a Etsy customer?
We want to hear about your customer experience, good or bad!
Send your comments