Abricotine Top Highlights
What Kind of Decor Items Can Be Found?
Growth Chart
Ornament
Illustrations
Wall Hanging
Who is Abricotine
The creative behind Abricotine is Stephanie, a mother of 2 beautiful children, and passionate about decoration since the birth of her son. After creating her own garland, illustration and origami mobile, she decided to open her Etsy shop and offer her creations to the general public.
Today, Abricotine has generated more than 1200 sales. Besides the web channel, her products are in more than twenty outlets with new products arriving regularly.
She now offers a wide selection of decorative wooden objects, and hopes you will decorate the room of your little monkeys with her creations!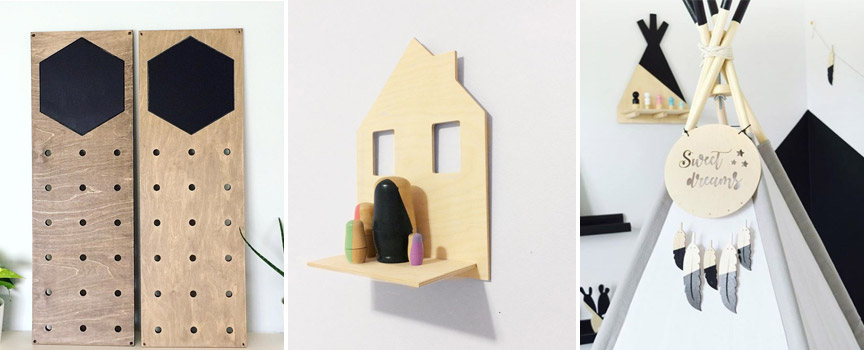 Interview with Abricotine
How long have you been on Etsy?
I opened my Etsy shop a few months before the birth of my first child in September 2013. The primary goal was to dispose of the material that was left over after creating an origami mobile for my son's room. I then began creating products such as origami garlands and cardboard flags.
Apart from Etsy, where can we buy your products, online and in person?
I would say that it is mainly on my website Abricotine.com where you can find the majority of Abricotine products. The costs with Etsy were becoming too steep to continue exclusively on this platform. But, I want to offer some of my collections on my Etsy store to take advantage of their incredible visibility and the Etsy members support on Facebook.
The growth chart was my first favorite. Your other wooden products are really beautiful. Where do you find your inspiration?
First, I design the majority of my products to fill a need in my home. Example: my peg boards were created to hide the big hole my boyfriend made by installing a wall hook purchased at the supermarket.
Otherwise, my main source of inspiration comes from my children who have a personality of their own. I love observing them in their daily life, in their way of acting and playing, this serves as a foundation for my thematic collections.
I try to create an ambience, so consumers find it easy to plan their decoration concept. I am also a huge Pinterest and Instagram fan. I like keeping track of new trends.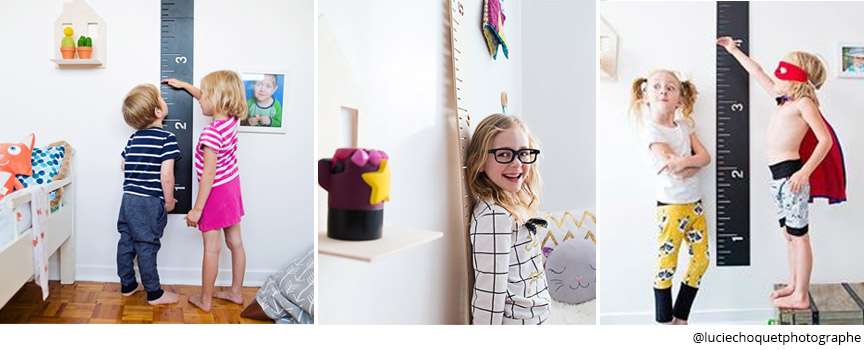 Why wood? Because of the quality, the eco-friendly side?
All of those answers. I work with plywood which is durable when it is well maintained. It's strong, inexpensive and environmentally friendly. I love the possibilities brought to me by Russian wild cherry wood.
On the other hand, I am not against the idea of trying other materials like my black growth chart which are in PVC. But, I much prefer to work with wood.
Why did you choose to create decorative objects for children's rooms?
On one hand, to meet my desire to create a unique room for my son. The possibilities are endless when it comes to childhood.
On the other hand, since I also needed more than kids' decorations, I launched a "Home" category which is intended for big kids.
What are the 2 items you created of which you are the proudest?
First, my growth scales, which are more than decorative objects. Measuring charts become an important element in families. Children are proud to see that they have grown up, parents are moved when they see the small lines drawn a few years ago, and this is a way to leave their mark for the whole family, grandparents included. It becomes an inheritance that we share from one generation to the next.
The 2nd item of which I am most proud of is my customizable pads. Sometimes, customers made me write personal messages that move me tremendously. Then, I realize that people sometimes need a little comfort and I am deeply touched when my products are part of that.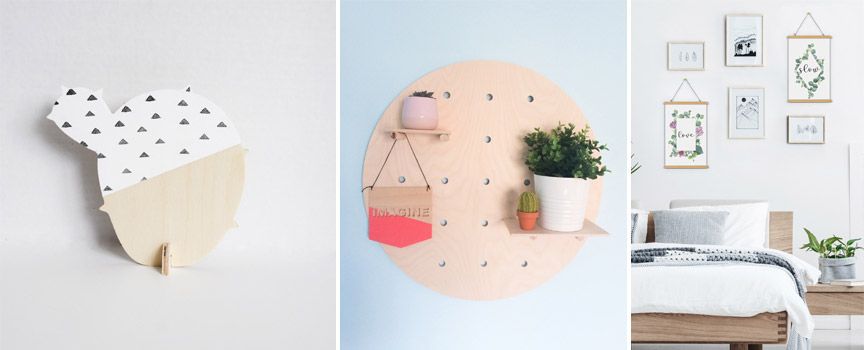 What is important to you when designing a new product?
I am a designer who is much more emotional than strategic. I am impulsive and often compose with ideas that pop into my head. Once I have a strong idea, I wonder if I need it and if people need it. I am lucky to be able to produce small quantities so when I miss the mark; the loss is not too substantial.
What sets you apart from other Etsy merchants in your category?
I think in general we artisans who work in the decoration segment complete one another. It has happened that some people get a bit too inspired by my work, so I try to think of a way to stay ahead.
I am fortunate to have opened my shop in the early days before Etsy become so popular. So I was able to establish myself and prove myself. I still have many miles to go to make a good living out of it, but I have indeed made headway compared to new companies that are just starting out.
What were your biggest surprises and successes?
Without a doubt the success of my growth chart. I'm happy because when I launched my first chart, some people did not understand what it was for.
How do you balance your professional and family life?
Things are much easier to manage now because I am now working full-time on this project. Last year, at the same time, I had to juggle my day job in Montréal, my family, and Abricotine.
Today, I can work from home, the children have changed daycare for one that is two minutes from our house, and my spouse has even found a job in our city. In short, our life took a new turn last June—for the better! I hardly ever work in the evening anymore.
Sometimes I think about the traffic jams and how they would steal a good hour from our time every day.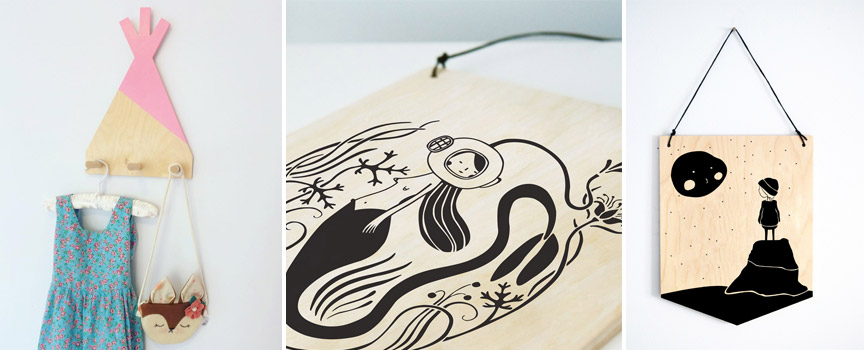 What do your children's dream rooms look like?
It's hard to say because trends change and evolve continually. At the birth of my son, I wanted a colourful room with touches of wood. At the time, we were living in a condo in the city, which fit very well with this style.
A few years later, we moved, and the monochrome palette was trendy.
My son is now 4 years old, and I am already redoing his room because I find that the style does not stick well to his personality. And to combine family and work, my next collection will be along the lines of the theme of his new room.
My son is a bit of a loner who needs a bit of time to get accustomed to his surroundings. With that in mind, II think the Little Prince is a good inspiration, but I don't want to say another word because everything is still in development!
What advice would you give to those who are in the process of creating a cozy nest for their family?
The first step is to know your style, your tastes and not those of your neighbors. We have to decorate our home for ourselves first and foremost, not to impress others.
Create Pinterest boards with lots of ideas. I often go with an object, a colour or a theme. And keep in mind that is sometimes takes a bit of time complete a decor, why hurry the process? You know, sometimes we don't immediately find what that perfect item we have in mind, so we have to wait.
The addition of an object will refresh a room time and time again.
What are your top 3 products to create a WOW effect?
Growth charts in a place where everyone can see it, for example, the stairwell.
A wall hook in the entrance.
A plant wall created with my hexagonal pegboards!
Abricotine Online
From Abricotine Etsy Shops