Target Top Highlights
What Kind of Wall Art Can Be Found?
Shopping Experience
Here is a review of exactly what you'll find.
When looking for wall art for a nursery or children's bedroom, quite likely you will search online to find the best options. One website where you will find some options and great items to buy, is Target.
Target offers a wide range of categories to pick from when shopping. They offer posters, artwork, prints, paintings, posters and stickers. You can decide which one works for your project. For example, if you need something you can easily change, you can always opt for pieces that are removable and reusable. This is where stickers, decals and vinyl are the perfect solution. On the other hand, if you're able to use something more permanent you can invest in paintings, prints or photo art.
What is also great about the Target website is that it offers fun items for hanging in your child's or toddler's room. They have plush animal heads that look great on a baby's room wall. A number of options makes designing a room a fun project because you can mix and match your selections.
Price range
Another good thing about Target's website is that it offers a great price range. As stated above, if you want a temporary option for a kid's room, you can find it at a lower price. If you want something more permanent, you can also find it at a reasonable price. If you want items which are on sale, you can click on a special location where they offer highly competitive prices too.
Image quality
When picking your pieces at the Target website, you can zoom in for details. This is a helpful option, but the details are not as clear as offered on some other websites. You will get a good idea of what the item looks like, but not closely enough for texture or detailing. In addition, some websites include the option of seeing your piece as posted on a wall. This is very helpful but unfortunately it is not available at the Target website. You do get the dimensions but visualizing has to be done on your own.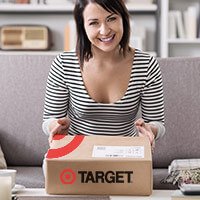 The benefit of being able to see personal reviews is valuable when shopping online. Due to the fact that Target is internationally renown, the chances of finding personal reviews on items is very high. This is where people post their own feelings on different pieces. Another plus is having the ability to change currency as you are buying, depending on where you are located.
Shipping
Shipping is affordable at Target. They have free shipping on orders over $25. This is one of the best deals found online and it's low enough that any relatively moderate purchase qualifies. The company also offers a great return policy that includes free returns.
Store locator
As you would expect from a market giant like Target, you can easily find a store near you via their handy online tool. It offers an interactive mapping system that is easy to navigate and use. If you are shopping, be sure to search for coupon codes also because this is a great way to save even more. In addition, Target is big enough that it regularly releases codes on different social media platforms.
Target Wall Art Best Sellers
Customer Reviews
What other people have to say about their experience with Target
Already a Target customer?
We want to hear about your customer experience, good or bad!
Send your comments