Decorating with wall decals
If you have ever wanted to dress up your nursery, baby's bedroom, kid's room or playroom—consider using the decal. A decal is a piece of wall art that has an adhesive on the back. The adhesive won't damage your walls and they usually are peel and stick. This means that application will be simple, which is why so many people love using wall decals and wall stickers to decorate.
They come in a wide variety of shapes, sizes, and colors. You can even find full packages that showcase scenes from popular children's fairy tales or from folklore.
Applying your wall art stickers to the wall
If you have a collection of vinyl wall art and want to get it on your wall, where do you start? Vinyl wall decals are effective and they stand out to create a lovely décor.
Knowing how to place them though, is key. If you only have a few decorative pieces you can quite likely just apply them to your wall in a few minutes. In this case, spread out your pieces on the floor by the wall, peel the wall décor stickers one by one from the backing and slowly smooth it out to the wall. Try to work out any bubbles trapped underneath—this is normal. Firmly press the middle of the piece and work your way to its edges.
You can purchase tools that roll out the air for you, but if you only have a few pieces, you won't need any additional tools.
Diligence and careful placement will do the trick just fine.
Applying large wall art decals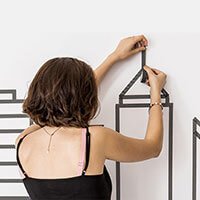 When you have a large display or larger pieces, it may be more difficult but definitely not impossible. Usually, nursery wall stickers or children's wall stickers can create full scenes.
The best way to manage these is to post a large piece of paper on the wall first. Use regular tape to secure your various pieces in the location you want them. This is the best way to visualize the end results, without permanently misplacing any of your wall decals for kids' or nursery wall decals.
You can easily move them around until you're completely satisfied with the effect.
Custom wall decals for childresn
If you have customized wall stickers for kids or even for your own room, they can easily be posted using the same technique above. Use a large piece of butcher block paper to position the design exactly where you want it prior to committing to its placement.
Custom designs can effectively set the tone of a room, state an important message or even blend in with existing furniture. Whether you own a home or rent, they offer an easy and quick way to incorporate your signature design skills into the room.
When you decorate a home, room by room, you always want to customize it to your own preference and taste. Wall stickers are the perfect way to easily do this as they are highly affordable and easy to apply. They can also effectively alter the entire look and feel of your room!
Join the community
All the updates and special deals directly to your inbox.
Need help with installation?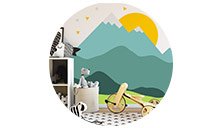 Wall Decals
Wall Decals Guide
Discover our 34 Essential tips about wall decals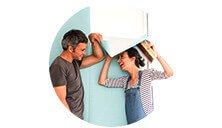 Vinyl Decals & Stickers
Install and apply vinyl decals
Wall decals are a great way to customize your room to your style.